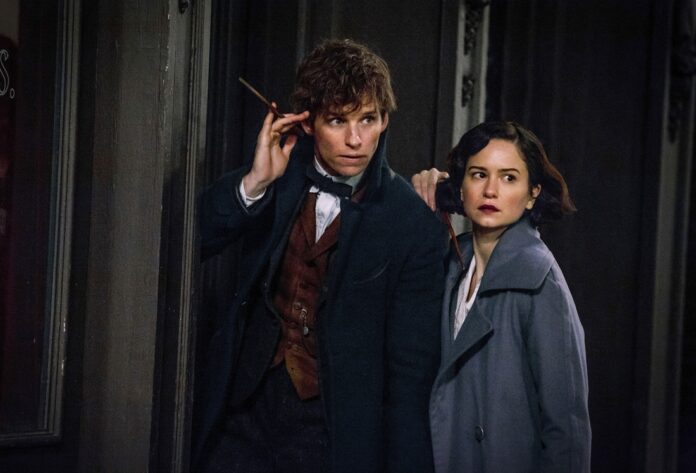 Xenophobia. Prejudice. Oppression.
Who's up for a little escapism at the multiplex?
J.K. Rowling, embarking on her new, post-Potter blockbuster franchise with "Fantastic Beasts and Where to Find Them," has said herself that her screenplay, which she began several years ago, was informed by world events — particularly, she noted, a rise in populism around the globe.
And so there's definitely some darkness in "Fantastic Beasts," despite its being a family film, complete with the sweetest little beasts (and bigger ones) imaginable — expect to see your kid melt forthwith over the lovable jewelry-imbibing Niffler (It's stunning how many carats he can consume without gaining weight.)
But there's also a refreshingly light tone competing with the sinister themes, thanks especially to two exceedingly appealing supporting characters headed for a sweet confection of a romance.
But first, the title: Harry Potter fans will know that "Fantastic Beasts" was a required text for Harry and his Hogwarts mates. That little book has now become the seed of a franchise — there are FOUR films to come — based on its author, Newt Scamander (Eddie Redmayne), a wizard Magizoologist with a mop haircut, a bashful grin, and one fabulous briefcase.
Why is this briefcase so great? Well, it's magic, like Mary Poppins' carpet bag. But while Mary basically pulled out room furnishings, Scamander has not only a menagerie of fantastical creatures, but seemingly a whole mini-planet in there to house them.
We start with Scamander just off the boat in 1926 New York, a few years before the Great Depression. Director David Yates, of the last four Potter films, has clearly spared no expense in creating this Jazz Age Big Apple, from the grand skyscrapers and period automobiles to Colleen Atwood's delicious costumes, to of course the endlessly inventive CGI beasts.
It's not the best time for a young wizard and his pets to be arriving. Magical folk have gone undercover. Among the No-Majs (that's American for Muggles, or humans), zealots from the Second Salemers (as in Salem Witch Trials) are looking to destroy wizards and witches.
So the wizards' governing body, MACUSA, is suppressing all magical beasts, lest they expose the wizards. It's particularly inconvenient when Newt's creatures are accidentally set loose across the city.
It becomes a race against time for Newt and three companions to rescue them and save the city from an undefined, sinister force. These companions are Tina (Katherine Waterston), an ambitious but well-meaning MACUSA investigator; Jacob (Dan Fogler), an amiable, portly No-Maj baker who gets caught up in it all; and Queenie, Tina's mind-reading, sweetly sensitive sister (Alison Sudol).
Also in the mix: Percival Graves (Colin Farrell, in an undefined role), the mysterious director of MACUSA, and zealot Mary Lou Barebone (Samantha Morton). And there's one more big star — bigger than all — who makes a late appearance. (We won't spoil it here — feel free to Google.)
It's all entertaining, lovely, expertly done. Why then does it feel as if something's missing? Perhaps it's our inescapable urge to compare it to the Potter phenomenon.
Or perhaps it's that Harry was, well, a kid, who we watched grow up. "Fantastic Beasts" is obviously more of an adult story. Redmayne is charming, though less commanding than in some other roles. He has nice charisma with the winsomely earnest Waterston. But the real chemistry is between Fogler and Sudol, an unlikely couple eyeing each other coyly across the Wizard/No-Maj chasm.
Then there are the beasts — not just Niffler, but Bowtruckle, Erumpent, Murtlaf and Mooncalf, to name a few. Here, Rowling delivers as only she can. "I don't think I'm dreaming," Jacob says. "I ain't got the brains to make this up."
Other than Rowling, who really does?
"Fantastic Beasts and Where to Find Them," a Warner Bros. release, is rated PG-13 by the Motion Picture Association of America for "some fantasy action violence." Running time: 133 minutes. Three stars out of four.