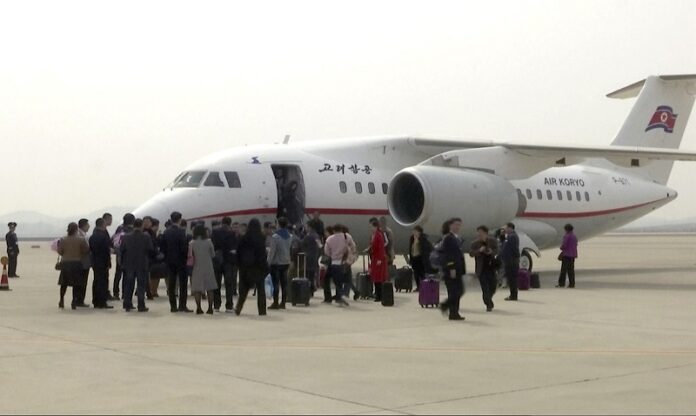 PYONGYANG, North Korea — North Korea's national airline has started a new flight service to Dandong in China, bringing the total of its regularly scheduled international destinations to five.
The first Air Koryo flight for the new service, a 73-seat Antonov AN148 carrying a group of around 50 Chinese tourists, touched down at Pyongyang's Sunan Airport on Tuesday.
The flight time between Dandong, right on China's border with North Korea, and Pyongyang is less than an hour. The flights are currently scheduled to operate twice a week, on Tuesdays and Fridays.
Air Koryo's other current regularly scheduled international flights are to Beijing, Shenyang, Shanghai, and Vladivostok. The North Korean flag carrier also used to make occasional flights to other destinations, but sanctions have led some countries such as Kuwait and Malaysia to stop Air Koryo flights.
Air China, long the only foreign airline with regular service to North Korea's capital, is also expected to end its flights in and out of Pyongyang after an international marathon next month.
It hasn't officially announced why, or for how long, but along with possible political reasons the cost of continuing the underused route was likely a major consideration. It had previously curtailed service to Pyongyang on a seasonal basis, or cut back flights only to restore them at a later date.