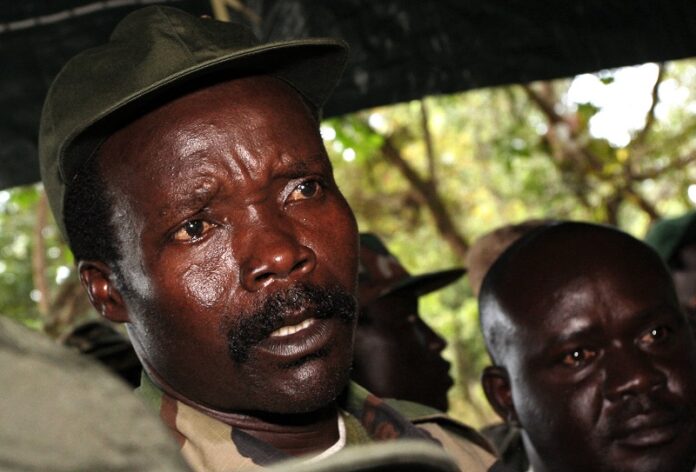 KAMPALA, Uganda — Indicted for killing thousands and kidnapping children to become soldiers and sex slaves, Joseph Kony has been Africa's most notorious warlord for three decades. Now that the United States and others are ending the international manhunt for him and his Lord's Resistance Army, it appears Kony may never be brought to justice.
His elusiveness in the often lawless bush of central Africa is legendary. In one incident Ugandan military forces in hot pursuit raided Kony's hideout deep in a Congo wildlife park in 2008 and seized little but a wig and guitar he left behind.
Despite the millions of dollars spent to catch him, Kony has outlasted his hunters. That's a blow to victims who hoped he would stand trial at the International Criminal Court where he has been charged for war crimes and crimes against humanity.
"The yearning for justice is there," said Judith Akello, a lawmaker who represents a community in northern Uganda once hit by Kony's rebel insurgency. "Justice is what the people demand."
Kony became internationally notorious in 2012 when the U.S.-based advocacy group Invisible Children made a viral video highlighting the LRA's alleged crimes. The group is accused of killing over 100,000 people, according to the U.N.
The U.S. has offered up to $5 million for information leading to Kony's capture.
Although scores of LRA fighters have recently surrendered or been killed, the whereabouts of Kony, now in his 50s, remain a mystery. Recent defectors from the rebel group suggest he is sick and hiding somewhere in the vast, ungoverned spaces of central Africa.
In pulling out of the military mission against the LRA, the U.S. in March said the rebel group's active membership is now less than 100. The U.S. first sent about 100 special forces as military advisers to the mission in 2011, and in 2014 sent 150 Air Force personnel.
Echoing the U.S., Uganda's military last month announced it was ending the manhunt and pulling out 1,500 troops because "the mission to neutralize the LRA has now been successfully achieved."
The military withdrawal means Kony may never be caught, said some observers. Of the five LRA commanders indicted by the ICC in 2005, he is the only one still at large. One commander, Dominic Ongwen, is currently on trial at the ICC following his arrest in Central African Republic in 2015.
"Kony is the ultimate master of survival in the jungle," said Kasper Agger, an independent researcher in Central African Republic who monitors LRA activities. "He has survived three decades of warfare and evaded capture from the most powerful and expensive military in the world."
Kony's rebels may continue as a "group of bandits" in sparsely populated areas of Congo and Central African Republic, where they may link up with other armed groups, said Agger. LRA rebels trade in wildlife products to support their activities, slaughtering elephants for ivory in Congo under Kony's direct orders, according to The Enough Project.
The LRA remains a regional threat, according to a new U.N. report on sexual violence in conflict. "The Lord's Resistance Army continued its decade-old pattern of abduction, rape, forced marriage, forced impregnation and sexual slavery" in Central African Republic and has a presence in Congo and South Sudan, it says.
Kony has proved difficult to capture "mainly because he hides in Sudan-controlled territory" in which other African forces are not permitted to operate, said Sasha Lezhnev of the Enough Project. Sudan has denied allegations by Uganda's government that it actively supports the LRA.
A former Catholic altar boy whose rebel movement started as a tribal uprising with aspirations of ruling Uganda according to the biblical Ten Commandments, Kony is an almost mythical figure. LRA fighters have said he has paranormal powers to read the minds of disloyal commanders.
Under military pressure, the LRA fled Uganda in 2005, moving first to Congo and then to parts of Central African Republic in a vast jungle area about the size of France. By then vastly degraded, the LRA splintered into small groups that were constantly on the move.
The rebels were up against a poorly organized Ugandan military, whose commanders in the anti-Kony campaign were accused of creating phantom soldiers on the payroll and abusing civilians.
"Kony and LRA's nine lives were the result of their discipline," said Angelo Izama, an analyst in Uganda who runs a think tank on regional security called Fanaka Kwawote.
Although Kony could appear bizarre, "he presided over a formidable, well-armed and loyal outfit that was quite capable of running rings around the supposedly superior soldiers sent to hunt him down," said Matthew Green, author of "Wizard of the Nile," a 2008 book about the LRA.
"While many people in (northern Uganda) reviled Kony for the atrocities he ordered, they were also subject to repression and abuses by (Ugandan) President Museveni's security forces," Green said. "Kony survived in part because there was often a deep-seated ambiguity in attitudes toward his movement among his own people, even though they were his principal victims."
Story: Rodney Muhumuza