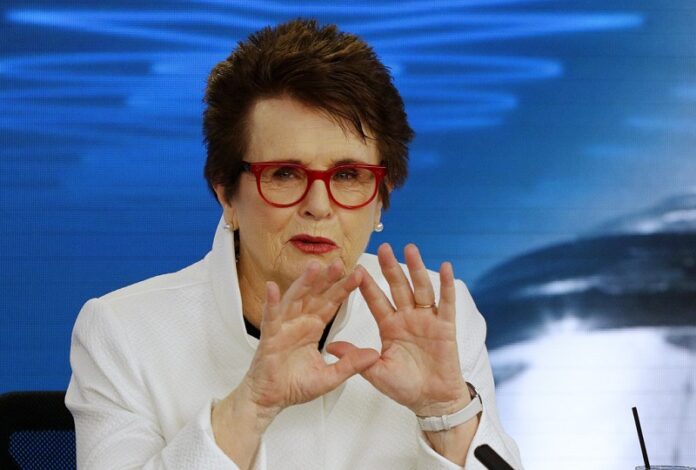 MELBOURNE, Australia — Billie Jean King thinks Margaret Court Arena should be renamed, saying she wouldn't play on the stadium if she was still competing at the Australian Open because of the 24-time major winner's comments about same-sex marriage and the lesbian, gay, bisexual and transgender community.
King, a pioneer for equality and diversity in tennis, said she had been a vocal proponent of Court having the second show stadium at the Australian Open named in recognition of her contribution to the sport.
"I was fine until lately when she said so many derogatory things about my community, I'm a gay woman – about the LBGTIQ community … that really went deep in my heart and soul." King said at a media conference Friday.
"I personally don't think she should have (her name on the stadium) anymore."
King is attending the Australian Open for the first time in eight years, marking the 50th anniversary of her Australian title. Organizers have recognized the American tennis great as the Australian Open Woman of the Year and launched its "Open4All" initiative to promote equality, diversity and inclusion to coincide with King's visit.
Court is not attending this year's Australian Open, which starts Monday, but has been a regular guest in the past.
Tournament director Craig Tiley said Court had a standing invitation to the season-opening major and would be welcome in future.
He said there was an ongoing "conversation" among stakeholders of Melbourne Park about the issue, and Tennis Australia – a tenant at the venue – would take the lead of the government on the issue.
King said she wouldn't promote a boycott of the stadium, but encouraged players to "look inside their heart" before making a decision.
King said she wished Court, who lives in Perth, Western Australia, was in Melbourne so they could continue the conversation.
Court, now a Christian pastor, has been an outspoken opponent of same-sex marriage.
Martina Navratilova wrote an open letter earlier in the year criticizing Court and recommended that tennis officials rename the arena that bears the Australian's name at Melbourne Park.
Story: John Pyne