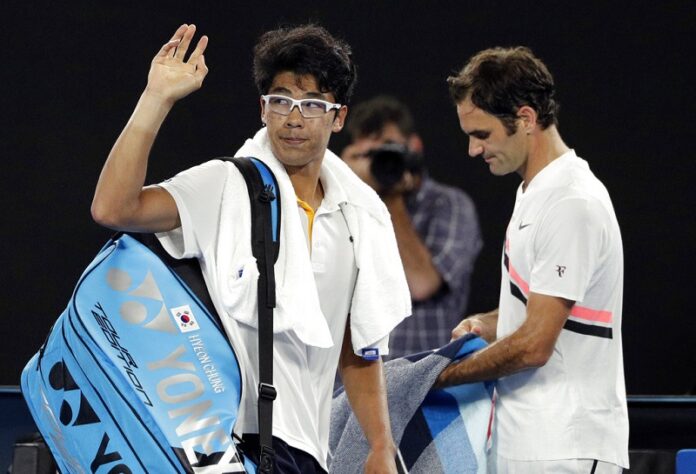 MELBOURNE, Australia — Roger Federer has moved to within one win of a 20th Grand Slam singles title after reaching a record seventh Australian Open final when Hyeon Chung retired from their semifinal on Friday night.
Defending champion Federer was leading 6-1, 5-2 when Chung retired because of blisters on his left foot. Federer, who spent just over an hour on court, will play No. 6-seeded Marin Cilic in the final on Sunday night.
"I've played with blisters in the past a lot, and it hurts a lot. And at one point, it's just too much and you can't take it anymore – you can't go on," said Federer, who will be contesting his 30th major final. "That's why this one feels bittersweet. I'm incredibly happy to be in the finals, but not like this.
"He's played such a wonderful tournament, so credit to him for playing so hard again today."
Federer beat Cilic in the final at Wimbledon last year, when the Croatian player was hampered by blisters on his feet, too.
This time, Cilic, the 2014 U.S. Open winner, has had one more day off than Federer after his semifinal win over Kyle Edmund.
The 21-year-old Chung needed a medical timeout to re-tape his left foot after going down a break in the second set and only played two more games before he quit.
Federer was utterly dominant until that point. After all, the 36-year-old Swiss star had the standing of the so-called Big Four to protect – there hasn't been a final at Melbourne Park since 2005 that hasn't featured Federer, Rafael Nadal, Novak Djokovic or Andy Murray.
Stan Wawrinka's win over Nadal in 2014 was the only final since 2008 that didn't feature two of the Big Four.
Federer set a record by reaching his seventh Australian Open final – one more than Djokovic – and has lost only one of the first six, to Nadal in 2009.
Cilic beat top-ranked Nadal in the quarterfinals and Chung stunned six-time champion Djokovic in the fourth round. And Murray, a five-time Australian Open runner-up, withdrew from the season-opening major to have surgery on his hip, leaving their collective reputation for dominance in Australia on Federer.
He didn't let anyone down in a clinical disposal of the No. 58-ranked Chung, who won the Next Gen ATP Finals last November and had an attention-grabbing run through his first five rounds in Melbourne.
Chung was the first Korean to reach the semifinals at a major and had taken out Djokovic and No. 4-ranked Alexander Zverev on his way to the last four.
Earlier, Timea Babos of Hungary and Kristina Mladenovic of France became the first players from their respective countries to lift the Australian Open women's doubles crown.
Babos and Mladenovic combined to beat the Russian pair of Ekaterina Makarova and Elena Vesnina 6-4, 6-3.
It's the first Grand Slam title for Babos. Mladenovic won the 2016 French Open doubles with compatriot Caroline Garcia.
Story: Josh Pye