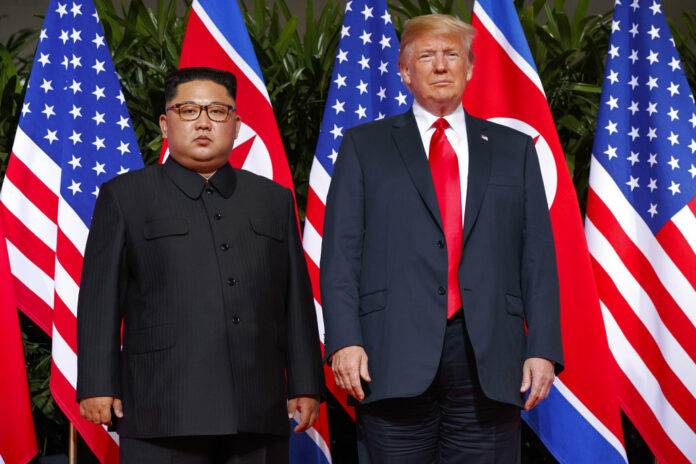 SEOUL, South Korea — It was just months ago when President Donald Trump used his first State of the Union address to condemn the cruelty of North Korea's government. But after his historic summit on Tuesday with North Korean leader Kim Jong Un, whom he described as "very smart" and having a "great personality," Trump seemed to play down the severity of human rights violations in North Korea.
"It's rough," Trump allowed after being asked about North Korea's human rights record. He then said: "It's rough in a lot of places, by the way. Not just there."
Few expected Trump to seriously raise North Korea's horrific human rights problems during his first meeting with Kim, which was mainly about addressing the threat of Pyongyang's nuclear weapons.
Still, his post-summit comments drew an angry reaction from activists, who have spent years highlighting North Korea's extensive crimes against humanity.
"By leaving human rights out of the final statement, the Trump administration effectively told North Korea that human rights are not a U.S. priority," Phil Robertson, deputy director of Human Rights Watch's Asia division, wrote on the group's website.
"For North Koreans, this means continued public executions, restrictions on movement, brutally punishing three generations of a family when one member 'offends,' and an absolute prohibition on any civil and political rights, on top of inadequate access to food, housing, education, and health care."
In his speech to Congress in January, Trump lashed out at the "depraved character" of Kim's government. He pointed to invited family members of Otto Warmbier, an American detainee who died after returning from North Korea with severe injuries, and a North Korean defector who lost a leg while scrapping for food and traveled thousands of miles (kilometers) on crutches to escape.
A look at North Korea's dismal record of rights abuse:
The Prison Camps
While North Korea officially denies this, outside governments and human rights group believe the country runs massive prison camps where people accused of political crimes are detained without trials and often without their families being notified about their whereabouts.
South Korea's Korea Institute for National Unification, a state-sponsored think tank, estimates that as much as 120,000 inmates were held at the country's five major political prisons as of 2013.
It's believed that the inmates, many of them accused of insulting the North's supreme leadership or attempting to escape to South Korea, are subject to horrific conditions, including forced labor, torture and rape. Inmates are often executed, some publicly, for disobeying orders, the institute said in a study.
The death tolls are further exacerbated by torture, denial of adequate medical care and high incidence of work accidents, said a 2014 United Nations report on North Korea.
"The key to the political system is the vast political and security apparatus that strategically uses surveillance, coercion, fear and punishment to preclude the expression of any dissent," said the U.N. report. "Public executions and enforced disappearance to political prison camps serve as the ultimate means to terrorize the population into submission."
The report said gross violations are also being committed in North Korea's ordinary prison system, including torture and deliberate starvation. Some of these prisons are labor camps that the North claims aim to reform prisoners through labor.
The Executions
Since assuming his father's throne in 2011, Kim, a third-generation hereditary leader, has shown a brutal side while consolidating his power. In what critics called a "reign of terror," Kim executed a slew of members of the North Korean old guard, including his uncle Jang Seong Thaek, who was convicted of treason, and senior government officials accused of slighting his leadership.
Kim has also been accused of ordering the assassination of his estranged half brother, Kim Jong Nam, last year at a Malaysian airport by assailants using a highly-lethal nerve agent.
South Korea's government said in 2016 that Kim ordered the execution the Vice Premier Kim Yong Jin. Seoul officials then told reporters in background briefings that Kim Yong Jin had been accused of sitting in a "disrespectful" way during a meeting of the North's rubber-stamped parliament.
In 2015, South Korea's spy agency said Kim Jong Un ordered his defense chief, Hyon Yong Chol, executed with an anti-aircraft gun in front of hundreds of spectators at a military shooting range. Hyon had complained about Kim's leadership, the National Intelligence Service said.
The Detainees
North Korea has also abducted thousands of South Koreans and other foreigners to use them for spying and propaganda purposes or as political pawns to gain concessions from outside governments.
The abductees include South Korean government officials, students and fishermen and also Japanese citizens. Most of them were kidnapped between the 1950s and '70s. In recent years, North Korea has often detained South Korean activists, many of them evangelical Christians who smuggle out defectors and send anti-Pyongyang literature and Bibles into the North through its border with China.
Ahead of Kim's summit with Trump, North Korea released three American detainees as a gesture of goodwill. However, the country only released Warmbier last year after he had lapsed into a coma. After his death at a U.S. hospital, North Korea called itself the "biggest victim" of the incident and denied that it cruelly treated or tortured Warmbier, who had been sentenced to 15 years of hard labor for crimes that included stealing a propaganda poster.
According to South Korean government figures, North Korea abducted at least 3,835 South Koreans after the 1950-53 Korean War, mostly from the 1950s to the 1970s when Seoul says the North systematically kidnapped its nationals and other foreigners to train them for propaganda and spying. While most were eventually released or successfully escaped back to the South, 516 never returned as of 2015, according to Seoul's Unification Ministry. It's unclear how many are alive.
Story: Kim Tong-hyung