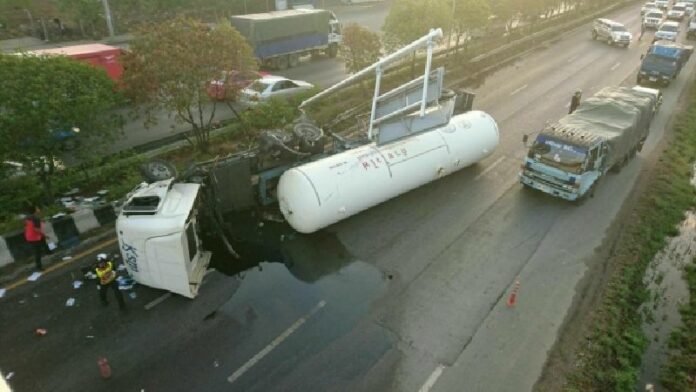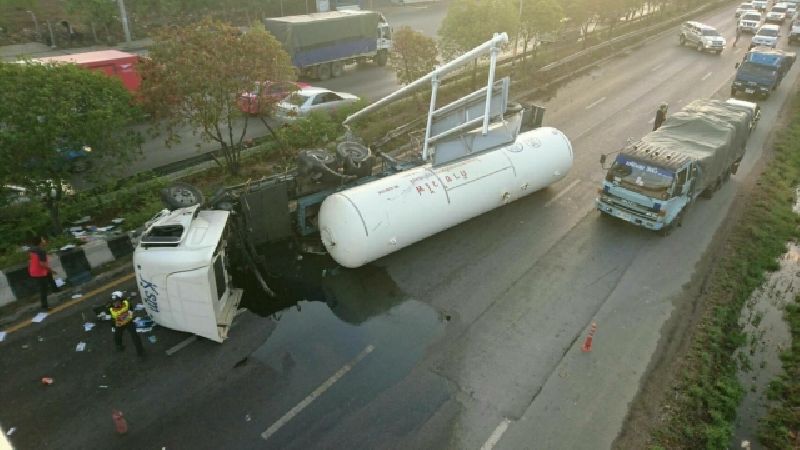 BANGKOK — Authorities are still trying to move 30,000 liters of liquefied petroleum gas (LPG) out of an overturned 18-wheel truck on Baromrajchonnee Road Friday morning.
Police at Thammasala  Police Station were notified about the incident at 6am Friday. The truck was found crashed into a road sign in the outbound lane of Baromrajchonnee Road, a route used for travelling between Bangkok and Nakhon Pathom province. Some of the highly flammable gas leaked out of the truck.
The truck was turned upright and gas is being transferred into a new truck, Police Col. Samart Phromchart said at 11am. "Half of it has been transferred now."
The accident forced the road to close in both directions paralyzing traffic and causing tailbacks that stretched to over three kilometers from the scene by 10am. However police said the road is now reopened on the inbound lane and traffic was moving by 11am.
Traffic on Baromrajchonnee Road heading towards Bangkok is unaffected. Samart added that police have arranged a temporary detour to avoid the scene of the accident for people using the outbound lane heading towards Nakhon Pathom province.
The cause of the accident is still being investigated.