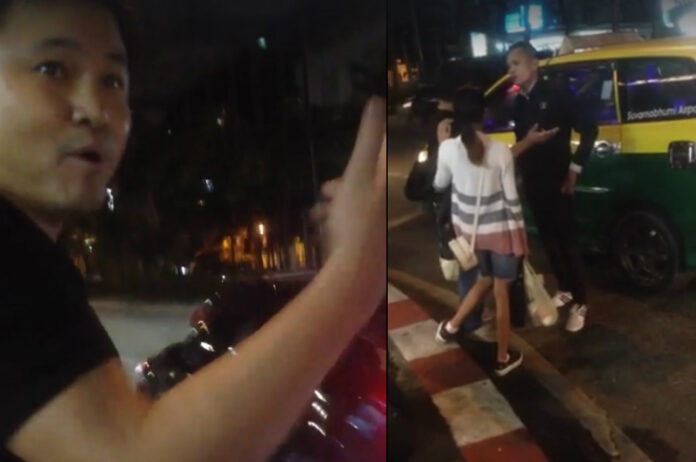 BANGKOK — A taxi driver compensated 1,000 baht by a famous film director who hit his cab for refusing to pick him up denied Monday he threatened to shoot the man in front of his daughter.
Rungnakhon Donkul, 40, was called in to the Department of Land Transport on Monday over footage in which he demanded 1,000 baht from director Takonkiet "Boy" Viravan for damage.
In video of the encounter, Rungnakhon claims the director damaged his car after the driver refused to pick him up. Takonkiet later tells the man behind the camera he paid because Rungnakhon threatened to shoot him.
The video, which quickly went viral, was posted Saturday night by Facebook user Free'night Kub with the caption, "In my opinion, taxi drivers who refuse to pick up passengers deserve more than just getting their car smashed. How dare the driver threaten him in front of his daughter? He didn't get a cab and still had to pay 1,000 baht."
"Why did you smash my car?" the taxi driver yells in the video. He also demands Takonkiet, who was with his daughter, wai him in apology.
The cinema director can be seen talking to Rungnakhon, but his voice is inaudible.
"Do you love your own possessions?" the taxi driver asks. "Pay me 1,000 [baht]."
After Takonkiet gives him the money, the taxi driver goes back to his car and drives away.
The videographer then moves closer to ask Takonkiet why he gave his money to the taxi driver.
"He threatened to shoot me," said Takonkiet. "I had to protect my life. My daughter is also here."
Takonkiet said the taxi driver had refused to take him.

Appearing before the press on Monday, the taxi driver said he refused to pick up Takonkiet because he was hailing at the corner of Soi Sukhumvit 33 – where the curb is painted red and white, meaning cars are prohibited from stopping.
In the video, Takonkiet is seen standing with his daughter at the red and white curb.
Rungnakhon said he neither threatened to shoot Takonkiet nor demanded money from him as it appears in the video.
"What I said is, 'If you smash my car like this, you might as well shoot me,'" Rungnakhon said.
Furthermore, he said it was the director's idea to compensate him.
"He asked me how much I wanted as compensation," he said.
Rungnakhon was fined 2,000 baht for rejecting a passenger and being impolite. His license was suspended for a month and he was ordered to attend driving lesson for three hours to improve his etiquette.
Holding a press conference Monday via One Channel – where he is board chairman – Takonkiet admitted to kicking the car. He said he got angry because the taxi was the second to refuse to take him despite being vacant.
"I was enraged, I wanted to call for the car to stop," he said. "So I used my foot to stop the car but it turned out to look as if I kicked his car," he said.
Though Takonkiet said he did offer compensation, the director said the driver challenged him to a gunfight. Takonkiet said he wai-ed to the taxi driver to apologize.
Takonkiet said he did not want to blame anyone but the outdated system. The director said he and the taxi are both the victims of the old law that prevents them from using alternative taxi services such as Uber and Grab Taxi – both of which are still illegal in Thailand.
"I told my daughter we can call Uber…my daughter said, 'Dad, Uber is illegal,'" Takonkiet said.