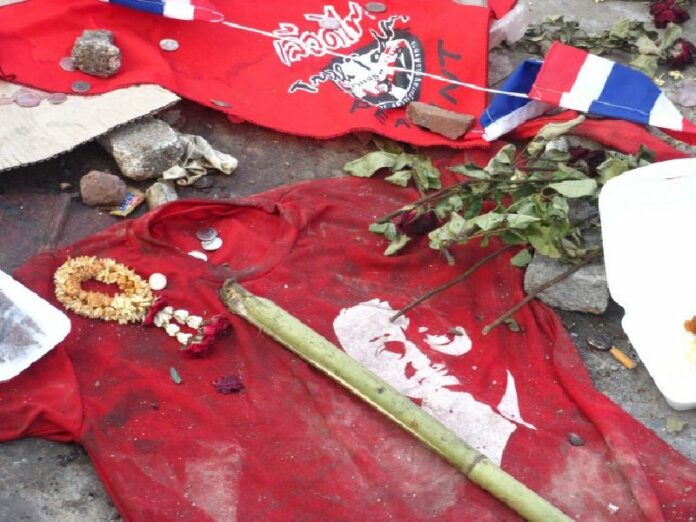 Tens of thousands expected to attend the rally at Ratchadumnern Avenue.
The National United Front of Democracy Against Dictatorship (UDD) announced plans to hold a major rally to commemorate the military crackdown on Redshirt protesters 3 years ago. Mr Jatupon Prompan, a leader of the UDD, said the event will take place on 10th April from 13.000-15.00 around Democracy Monument in Ratchadumnern Avenue.
The rally will be held in remembrance of those who were killed by the authorities in the violence that spanned from April-May 2010, he said, and will include religious ceremonies, political parades, speeches, and performances of songs in the memory of dead.
Mr Jatuporn added that constitutional amendments, amnesty bill, and the UDD′s efforts to assist the imprisoned Redshirts would be stressed on the rally stage. He said he was not certain whether former Prime Minister Thaksin Shinawatra would "phone-in" to give speeches, as the matter is still being discussed.
"The UDD′s intention is to remind Thai society that a lesson must be learned – that we must not let killings of its people happen again in this country," Mr Jatuporn said
Ms. Thida Tojirakarn, chairwoman of the UDD, said that the political parades would take place at 13.00, with the Redshirts from northern and northeastern regions marching from the Panfa Bridge while the protesters from southern and western regions marching from the Royal Field, and the two groups is to meet at Kok Wua intersection – one of the sites of the lethal clashes between the Redshirts and the military 3 years ago.

Further events will include a religious service to the dead, speeches by relatives of those killed and Redshirts leaders, and screening of footages of the 2010 crackdown, and are expected to wrap up at around 01.00 am., according to Ms. Thida.
The UDD chairwoman said she expected 30,000-50,000 Redshirts would attend the rally.