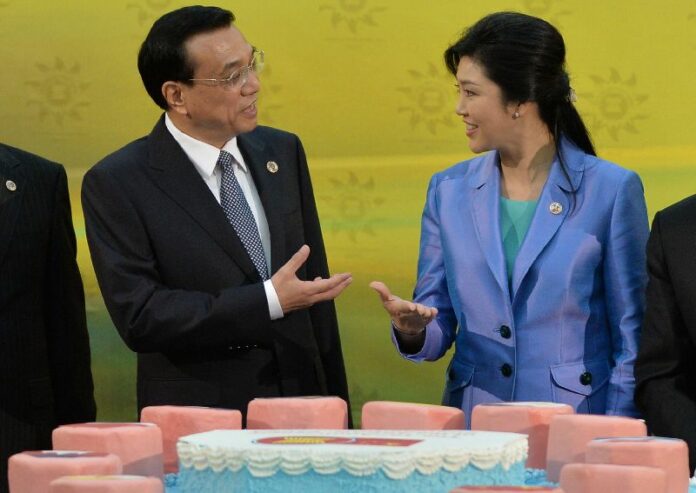 (9 October) The protesters who are rallying against Prime Minister Yingluck Shinawatra at Government House in Bangkok say they would not clear the ground for the upcoming visit of Premier of the People′s Republic of China.
Li Keqiang is scheduled to visit Bangkok from 11-13 October. The Premier is also expected to meet with Ms. Yingluck at Government House, where thousands of riot police officers are posted to keep close watch on the much fewer anti-government protesters who are camping just outside the compound.
Calling themselves People′s Force of Democracy to Overthrow Thaksinism (PEFOT), the protesters accuse Ms. Yingluck of serving as a puppet for her brother, the controversial former Prime Minister Thaksin Shinawatra, and demand her resignation.
Earlier this morning, Pol.Maj.Gen. Adul Narongsak, deputy commander of Bangkok Metropolitan Police, visited the protesters? camp with his assistants and attempted to negotiate with PEFOT representatives, namely Adm. Chai Suwannaparp and Gen. Preecha Eiamsupan.
Sitting on a mat near Gate Three of Government House, Pol.Maj.Gen. Adul proposed that PEFOT move their rally to somewhere else, preferably Lumpini Park, during Mr. Li′s visit in order to maintain "good atmosphere" around Government House for the foreign delegates.
"After that, you are welcomed to come back and protest again," Pol.Maj.Gen. Adul told the protest leaders.
The deputy commander stressed during the meeting that the police have to place checkpoints around the protesters? camp to safeguard the welfare of the protesters. He said the officers have confiscated firearms, knives, and scissors from individuals who attempted to enter the protest site.
"We do not know who these people are," Pol.Maj.Gen. Adul said, "We have received intelligence that a third hand party is intent on creating [chaotic] situation,"
However, Adm. Chai and Gen. Preecha insisted the protests would not disperse during the visit of the Chinese Premier, and offered to keep the camp site in clean and orderly fashion.
"I think it′s something we can show the foreigners, so they will see that Thailand has democracy and the rights of expression," said Gen. Preecha, adding that Ms. Yingluck should take Mr. Li for a walking tour in the protesters? camp to prove that point.
Pol.Maj.Gen. Adul said he hoped both parties can engage in further rounds of negotiation in order to solve the matter.
For comments, or corrections to this article please contact: [email protected]
You can also find Khaosod English on Twitter and Facebook
http://twitter.com/KhaosodEnglish
http://www.facebook.com/KhaosodEnglish