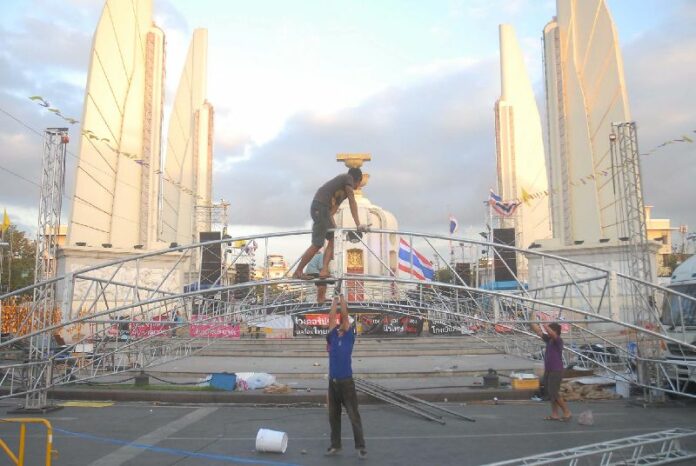 (18 December) Ambassadors of various nations have rejected the invitation to tour the anti-government protest site at Ratchadumnern Avenue as invited by the protest leaders.
The People′s Committee for Absolute Democracy With the King As Head of State (PCAD) has previously invited foreign embassies in Thailand to send their ambassadors and diplomats to tour their encampment this evening so they could witness the PCAD′s "peaceful" fight to overthrow the corrupt regime of Prime Minister Yingluck Shinawatra.
The tour was scheduled to start at 18.00 earlier today.
However, only 6 representatives of international entities showed up at the protest encampment, our correspondent said.
The group privately met with PCAD leader Suthep Thaugsuban in the air conditioned tent behind the stage. The protest volunteer guards did not allow members of the press to observe or photograph the meeting, citing privacy and security concerns. The meeting lasted for two hours.
After the meeting was concluded, large number of guards immediately escorted the foreign entourage out of the protest site, and no press conference was given.
A member of the PCAD leadership said one of the foreigners who met with Mr. Suthep is Mr. Matthew Wheeler from International Crisis Group. Another foreigner was said to represent the Red Cross International, while the identities of other four foreigners were not immediately clear.
When a reporter attempted to ask one of the delegates which organisation or embassy he represented, the individual simply replied, "Doesn?t matter".
It is understood that no Ambassador was present at the meeting with Mr. Suthep today.
According to a report on the website of Thai Rath newspaper, embassies of prominent nations such as the United Kingdom, France, China, and the United States have declined the offer from PCAD, saying they would not send any representative to observe the protest site.
Thai Rath also quoted an official of the US Embassy in Bangkok as saying that a tour to the PCAD encampment would not be necessary because the US diplomats have been engaged in dialogues with both the protest leaders and the government already.
Embassies of Southeast Asian nations are also unlikely to accept PCAD′s offer, Thai Rath says, with the Ambassador of Indonesia on the trip outside Bangkok and Embassies of Laos and Singapore stating that they have not been informed about PCAD′s invitation.
For comments, or corrections to this article please contact: [email protected]
You can also find Khaosod English on Twitter and Facebook
http://twitter.com/KhaosodEnglish
http://www.facebook.com/KhaosodEnglish