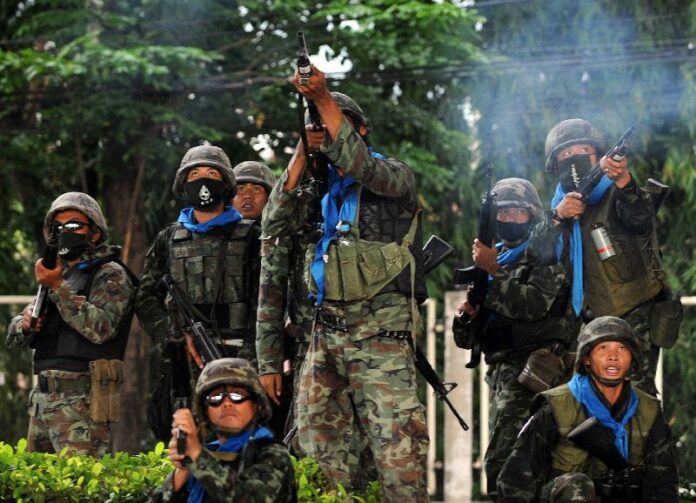 BANGKOK — A court has ruled that yet another Redshirt protester was killed by gunfire from a military position during the 2010 crackdown in downtown Bangkok.
According to the South Bangkok Criminal Court, Narin Srichomphu was shot and killed by military-issued weaponry fired from the location where a group of soldiers were standing at Saladaeng Intersection in the Ratchadamri district on 19 May 2010.
The inquest was a part of legal procedure to identify those responsible for the more than 90 deaths caused by clashes between security forces and protesters during March – May of that year.
Former Prime Minister Abhisit Vejjajiva and former Deputy Prime Minister Suthep Thaugsuban are also facing murder trials for overseeing the military operation. Both leaders and high-ranking military commanders have publicly denied that security forces were responsible for any deaths, blaming the violence on the "Blackshirt" militants allegedly allied to the protesters.
Today, judges cited a significant body of evidence to back the claim that soldiers used live ammunition against protesters on 19 May 2010, such as video clips, testimony from soldiers themselves, and ballistic investigations.
Although Col. Noppasit Sitthipongsophon, commander of the troops around Saladaeng at the time, insisted his unit was only armed with blank rounds, soldiers in his unit testified in court that they did fire live ammunition at the protesters.
The court also noted that Narin was shot in the same vicinity where an Italian photojournalist, Fabio Polenghi, was shot and killed on the same day. A previous court inquest determined that Polenghi was killed by military gunfire.
"Therefore … the court found that the deceased was killed by high-velocity bullet which penetrated his head and nerve system," the court verdict concluded. "A bullet fired from the direction of the military personnel who were operating under orders of the Centre for Resolution of Emergency Situation (CRES)".
The court did not identify the particular soldier responsible for Narin's death, citing insufficient evidence, but a lawyer representing Narin's family says his clients were satisfied by the inquest's findings.
"It is yet more proof that nearly every death of Redshirt demonstrators and civilians in the crackdown was caused by the military," Chokechai Angkaew told reporters.
Several previous inquests have also attributed crackdown deaths to the actions of military officers, such the deaths of six civilians who were shot and killed by soldiers inside Wat Pathumwanararm Temple on 19 May 2010.
Although some inquests were inconclusive and unable to identify the perpetrators, the Blackshirt militants have yet to be formally attributed with a single crackdown death.
Related Story:
Court Inquest Dispels Oft-Recited Myths Of 2010 Crackdown
Court: Military's Bullet Kills Italian Photographer Fabio Polenghi
For comments, or corrections to this article please contact: [email protected]
You can also find Khaosod English on Twitter and Facebook
http://twitter.com/KhaosodEnglish
http://www.facebook.com/KhaosodEnglish