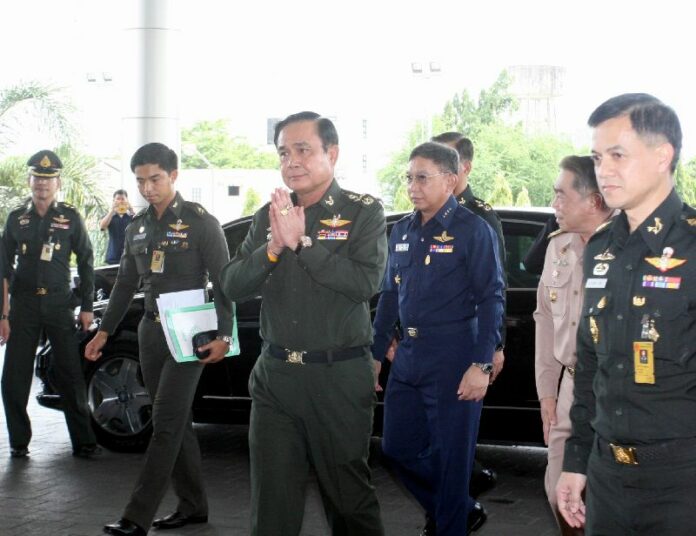 BANGKOK — The Senate Speaker has refused to comment on the allegation that Thailand's army chief is being considered as a candidate for the position of Prime Minister.
"Please help me think about that," Surachai Liangboonlertchai told reporters today when he was asked whether the Senate will attempt to appoint Gen. Prayuth Chan-ocha to replace caretaker Prime Minister Niwatthamrong Boonsongphaisarn.
"Rumours are rumours," Mr. Surachai said, adding that at the moment, the Senate has no plans to invoke Article 7 of the Constitution to appoint a royally-approved PM.
Mr. Surachai also dismissed the rumour that he will draft a list of PM candidates without consulting the rest of the Senate. "I have not thought that far yet," he said.
Mr. Surachai delivered the comments as he made his way to the Army Club on Vihavadee Road where the army-installed Peace and Order Maintaining Command (POMC) is convening a meeting with various political leaders to find a "solution" to the country's crisis.
Gen. Prayuth unilaterally imposed martial law yesterday, citing possible clashes between rival protest groups that are stationed in and around Bangkok. He now directs the newly-formed POMC, which is tasked with enforcing the military's new authority.
Today, the POMC invited Thailand's top political players to a military-mediated "peace talk" at the Army club. The invitees included Prime Minister Niwatthamrong Boonsongphaisarn, the Election Commission, the Senate Speaker, the Pheu Thai and Democrat Party chairmans, and the leaders of both pro-government United Front of Democracy Against Dictatorship (UDD) and the anti-government People's Committee for Absolute Democracy With the King As Head of State (PCAD).
UDD chairman Jatupon Prompan alleged last week that Gen. Prayuth was secretly nominated by a number of Senators to be an interim "non-partisan" Prime Minister. Gen. Prayuth has not publicly spoken out on the allegation, but he reportedly told a "military reporter" that Mr. Jatupon would be held responsible for the allegation if it turned out to be false.
For comments, or corrections to this article please contact: [email protected]
You can also find Khaosod English on Twitter and Facebook
http://twitter.com/KhaosodEnglish
http://www.facebook.com/KhaosodEnglish