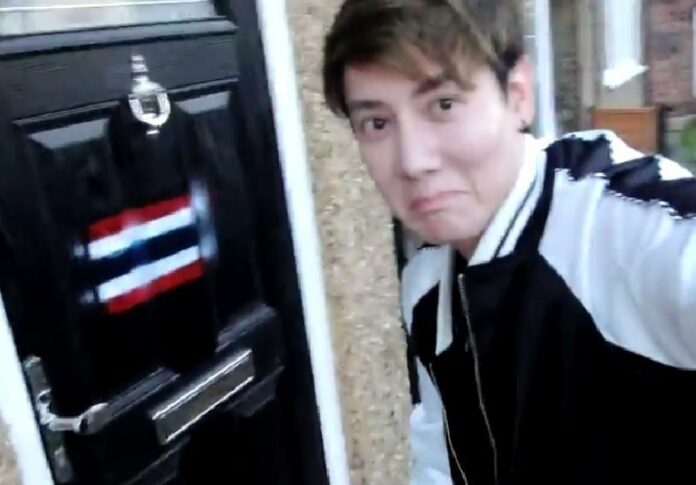 BANGKOK — Thai police continue to demand the UK government extradite a lese majeste suspect the British Ambassador to Thailand's public refusal.
Pol.Gen. Ake Angsananon, deputy chief of the Royal Thai Police, said in a press conference today that the police will do everything they can to bring Chatwadee Amornchat to Thailand to face a trial in military court on charges of lese majeste (insult of monarchy).
"We are not idle about this," Pol.Gen. Ake assured reporters.
Ms. Chatwadee, aka London Rose, is wanted by the Thai police for posting messages on social media that are critical of the Thai monarchy. Under Thai law, defaming the Thai Royal Family is a criminal offense that can carry a prison sentence of up to 15 years.
Pro-monarchy activists in Thailand have been pressing the Thai police to take legal action against Ms. Chatwadee. Her father also personally filed a lese majeste charge against his own daughter several months ago. He said he decided to press charges against her after receiving constant intimidation from royalists in Thailand.
However, the prospect of Ms. Chatwadee being extradited to Thailand appears to be slim. Ms. Chatwadee has acquired British citizenship and lives in London where she works as a hairdresser.
Inquiries to the British Embassy in Bangkok about whether the UK government will extradite Ms. Chatwadee went unanswered, but British Ambassador to Thailand, Mark Kent, said on his Twitter account that the extradition is not possible because unlike Thailand, the UK has no lese majeste laws.
"In brief, extradition treaties cover only offences in both states," Mr. Kent said in a reply to British blogger Andrew Spooner, "UK position clear."
However, the Thai police have vowed to keep pushing forward.
"The Foreign Affairs section will proceed to request extradition of the suspect. At the moment, we are waiting for relevant documents to arrive at the Foreign Affairs section." Pol.Gen. Ake said.
Over the past week, there have been two incidents of Thai royalists in the UK threatening Ms. Chatwadee because of her political views. In the first incident, a Thai woman filmed herself as she arrived at Ms. Chatwadee's house with a carton of eggs she said she intended to throw at Ms. Chatwadee.
In another incident, a Thai man who claimed to work as a DJ at the well-known Thai-themed restaurant and nightclub Thai Square, filmed himself spray-painting the Thai national flag on Ms. Chatwadee's front door.
The man also showed his fake gun in the video, claiming that he intended to use it to frighten Ms. Chatwadee if he encountered her.
Ms. Chatwadee was not seen in either video.