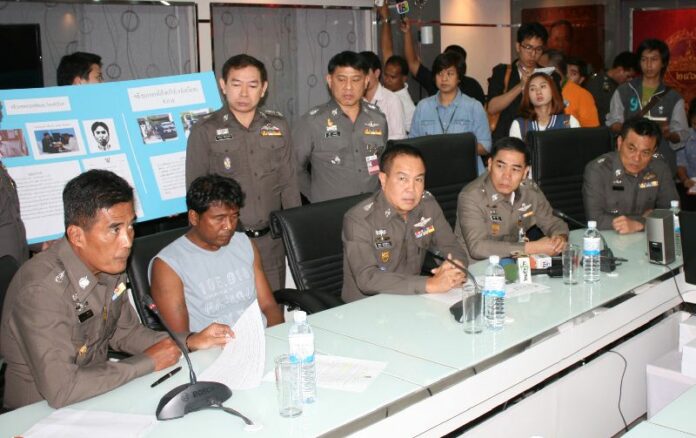 BANGKOK — Police say they have arrested a former anti-government protest guard who allegedly assaulted and shot at an army colonel earlier this year.
Anond Klinkaew, 45, is accused of assaulting Col. Witthawat Wattanakul in April while guarding protesters belonging to the People's Committee for Absolute Democracy With the King As Head of State (PCAD), an anti-government group who staged six months of street rallies aimed at toppling then-Prime Minister Yingluck Shinawatra.
On 25 April a group of PCAD guards, allegedly including Mr. Anond, beat and shot at Col. Witthawat after he tried to remove a traffic cone near a PCAD rally on Chaeng Wattana Road. Col. Witthawat was hospitalised for several weeks after the incident.
Mr. Anond was arrested in Nakhon Ratchasima province, said Pol.Gen. Somyot Pumpanmuang, deputy chief of the Royal Thai Police, at the police press conference today.
Pol.Gen. Somyot said Mr. Anond used to work as furniture carpenter in Samut Sakhon province and later became a PCAD security guard. Mr. Anond was reportedly trained and placed in "The Black Lion" squad of PCAD's security unit.
Although Mr. Anond was paid 500 baht per day for his service as a guard, he joined the protest movement because he personally agreed with the group, Pol.Gen. Somyot said.
"Police are not bullying or falsely implicating [Mr. Anond]," Pol.Gen. Somyot told reporters. "We are merely following our duty, which is to arrest people per arrest warrants."
Mr. Anond is also wanted in connection with separate cases of robbing firearms from Thoong Song Hong police officers on 7 May and assaulting a police officer on 9 May, according to Pol.Gen. Somyot.
The suspect apologised in person to the mother of Col. Witthawat, who was also present at the press conference. The mother, Bang-onrat Wattanakul, said she was at the press conference because she wanted to ask Mr. Anond why he assaulted innocent bystanders like her son.
"The victim did not assault anyone. He didn't harm the guards. He already announced that he didn't have any guns and wouldn't fight, yet you still mobbed and assaulted [Col.Witthawat]," Ms. Bang-onrat said to Mr. Anond. "You shot at him. You dragged him to an empty building and beat him with your feet. As a mother, I cannot bear this even if you apologise to me."
She added, "But I will forgive your bad karma. Please accept the fault you have committed. If you are really a man, you should accept what you have done."
Mr. Anond replied that he was sorry for what happened and would like to apologise to her on the behalf of other guards. He then kneeled down and respectfully bowed to Ms. Bang-onrat to seek her forgiveness.
During the six month anti-government protest campaign, there were several incidents of PCAD guards assaulting innocent bystanders, often for removing traffic cones placed by the guards.
For comments, or corrections to this article please contact: [email protected]
You can also find Khaosod English on Twitter and Facebook
http://twitter.com/KhaosodEnglish
http://www.facebook.com/KhaosodEnglish