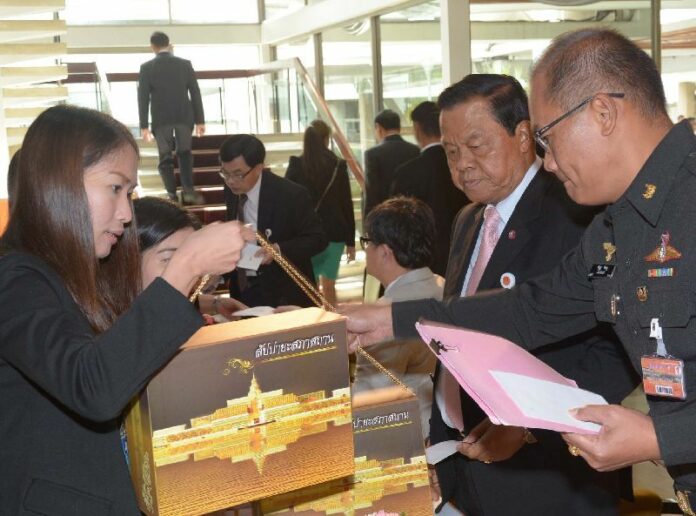 BANGKOK — Academics and members of the post-coup government have founded a civic group to participate in the reform process directed by Thailand's military junta.
The "Thailand Reform Institute" was launched by academics, conservative political activists, and members of the junta-appointed National Reform Council, which has been tasked with reforming all sectors of Thai society over the next year.
Sangsidh Piriyarangsan, the chairman of the institute and a dean at Rangsit University's College of Social Innovation, said the group will act as a liaison between the NRC and the public, seeking to "reflect public opinion" on reform issues.
He also said the institute will advocate for reforms that develop "dhammocracy" in Thailand, or a democracy based on Buddhist principles.
However, coup-leader and now Prime Minister Gen. Prayuth Chan-ocha distanced himself from the new civic group today, insisting that it was not connected to his government in any way, state media reported. Gen. Prayuth reportedly insisted that the NRC is the only national reform body affiliated with the government.
Gen. Prayuth and the rest of the military junta, known as the National Conucil for Peace and Order (NCPO), suspended democracy in Thailand to pursue a year-long reform effort after seizing power in a coup in 22 May.
The NCPO says elections will not be held until the reforms are completed and a new constitution has been drafted, which will take at least a year.
The NRC is widely expected to enact reforms that make Thailand's political system less democratic, as was the case in the reform process that followed the most recent coup in 2006. In 2006, the military appointed a committee to draft a constitution that replaced Thailand's fully-elected Senate with a half-elected, half-appointed body.