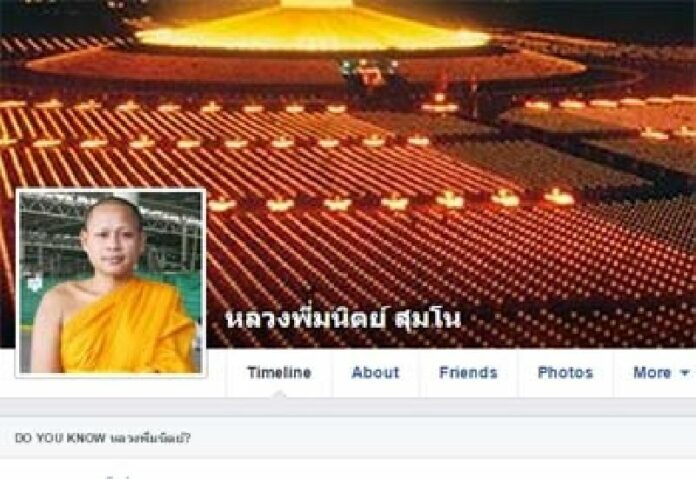 BANGKOK — Thailand's Office of National Buddhism (ONAB) is investigating a social media user claiming to be a monk who has published offensive remarks about the religion of Islam on the web.
Somchai Surachatri, an ONAB spokesperson, said the agency will attempt to identify whoever is behind the Facebook persona named "Luang Pee Manit Sumano." The Facebook user says he is a monk belonging to the Dhammakaya sect, which Dhamakaya's public relations department disputed in a public statement on 11 March.
In one controversial Facebook post, the user published a photo of a Muslim woman giving alms to Buddhist monks, and wrote in the caption: "This woman will never go to heaven if she still worships Allah. When I received alms from this woman, she told me when she followed Islam, she was not allowed to eat pork, she had to wake up very early to scream a morning prayer, and she was raped by many clerics. After she knew about Dhamakaya, her life got better. She is no longer raped by clerics everyday. You see, if you only change, your life can get better."
The profile appears to be deactived at the time of writing.
Somchai, the ONAB spokesperson, said if the user is proven to be a monk, he will be formally reprimanded by Buddhist authorities for his "inappropriate action." Somchai also told reporters he has asked the Ministry of Information and Communication Technology to block access to the Facebook page.
"Religion is a sensitive issue," Somchai said, "Each religion has the same objective of building peace in lives, but ways and methods of religious teachings may be different. Buddhism never violates or insults other religions. It only promotes co-existence among all religions. Extremist actions of certain people should not be published and spread on social network, where many readers can see, because it will cause bad feeling for people who have seen those actions."
A vast majority of Thailand – estimated to be as high as 96 percent by Thai authorities – is Buddhist. Islam is the largest minority religion in the country.
For comments, or corrections to this article please contact: [email protected]
You can also find Khaosod English on Twitter and Facebook
http://twitter.com/KhaosodEnglish
http://www.facebook.com/KhaosodEnglish