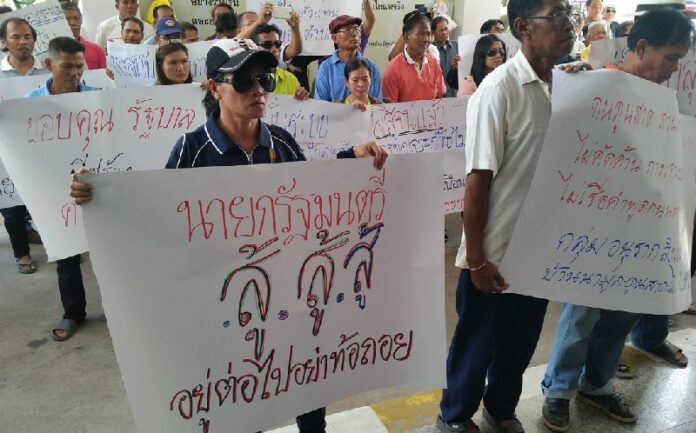 KHON KAEN — Over 100 people gathered for the second protest in northeastern Thailand this past week denouncing the students who are imprisoned for staging a demonstration against the military junta in Bangkok last month.
The group assembled in front of Khon Kaen province's city hall this morning to express their opposition to seven of the fourteen jailed activists who are students at Khon Kaen University. The students belong to an activist group, called Dao Din, that has worked to empower local communities in northeastern Thailand for years, and recently turned to focus on demanding a return to democracy in Thailand following the May 2014 coup.
Although the students were jailed for violating the junta's ban on protests, soldiers and policemen stationed at Khon Kaen City Hall made no effort to disperse today's anti-Dao Din rally.
Last week, at least 200 people also held a similar rally denouncing the seven Dao Din student activists in Loei province in northeastern Thailand, which is more widely known as the stronghold of the pro-democracy Redshirt movement that backed the government toppled in the coup.
Speaking at today's rally, Udom Labyongsee, 58, identified himself as a representative of the protesters, who he said hailed from over 11 villages in Khon Kaen. They believe the Dao Din students are attempting to "destroy the reputation and stability of the nation," he said.
According to Udom, Dao Din and another local environmentalist group have interfered with a foreign natural gas company's fracking operations in Khon Kaen by explaining the negative environmental effects of the drilling to villagers, leading to "unrest and disputes in the villages."
"Apico LLC has already dispatched representatives to the communities to create understanding and organize a trilateral meeting, which has clarified matters to the villagers and reduced the conflicts," Udom said. "Therefore, we support Apico LLC to continue the drilling of natural gas reserves, because we see it as a benefit to the nation."
Udom also submitted a letter to Khon Kaen's Governor, Kamthorn Thawornsathit, on the group's behalf. The governor said his administration respects the right to free expression, but stressed the need for stability as Thailand undergoes a period of reforms spearheaded by the military government.
"Right now, our country is afflicted by all kind of illness," Kamthorn said. "So, we have to give the government a chance to reform the country first, instead of using these brothers and sisters to cause problem in the national level."
Some of the signs at today's rally said: "Fight fight fight Prime Minister. Please stay [in power]. Do not back down," "Dao Din! Do not distort the facts. Do not mislead us into wrong things. Please stop," and "We people of Doon Sard would like to thank the Governor for having always taken care of us."

Students at Thammasat University hang oragami cranes and urge the government to release 14 jailed pro-democracy activists.
Meanwhile, around 100 people gathered for a candlelight vigil at Thammasat University in Bangkok this evening to show their support for the activists, who are facing up to seven years in prison. A military court ordered them to be remanded in prison while they await trial.
Over the past week, allies of the activists have organized daily demonstrations calling on Thai authorities to release the group and drop the charges.
When a reporter asked army chief Gen. Udomdet Sitabutr about the junta's policy towards rallies that support the 14 activists, he replied, "I want people to help by expressing their opinions within acceptable limits. They can do it as long as it's appropriate. But if the expression is too much like in previous times – for example, if they write messages or wrap banners around Democracy Monument, or if they display a bad manner – they will have to answer to the laws."
The 14 jailed activists were arrested after leading a small, peaceful demonstration at Bangkok's Democracy Monument on 25 June. The group sang songs and wrapped the monument in black banners that denounced the coup and called for a return to democratic rule.