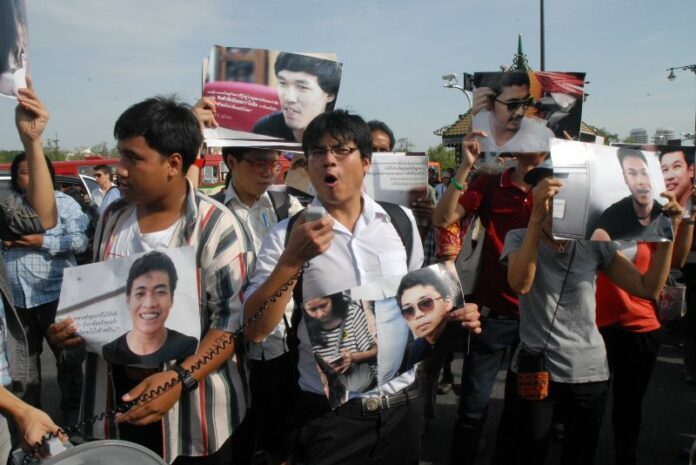 BANGKOK — Bangkok's military court has ordered to release fourteen anti-junta activists from prison while they await trial on sedition charges for leading a peaceful pro-democracy rally last month.
The fourteen activists – eleven of whom are university students – were ordered to spend 12 days in prison by the court after they were arrested on 26 June for wrapping black banners around Bangkok's Democracy Monument.
They were charged with inciting unrest, which carries up to seven years in prison, and violating the junta's ban on public gatherings, which has been in place since the May 2014 coup that overthrew a democratic government.
Today, the court ruled that there was no "necessary reason" to continue to detain the activists, which was considered a small victory for the group, who has insisted that authorities release them without any conditions, and vowed not to post any bail because they do not recognize the martial court's legitimacy to try civilians.

The activists' lawyers approach Bangkok's martial court on 7 July 2015.
The fourteen are expected to be freed from their respective prisons tomorrow morning, prison officials said. The thirteen male activists are currently being held at Bangkok Remand Prison, while a female activist has been detained at Bangkok's Central Women Correctional Institution.
Supporters of the 14 activists, who have held daily rallies calling for the group's release, are planning to gather in front of the two prisons tonight to welcome them.
Over 100 people also gathered in front of the martial court in Bangkok today to show support for the 14 dissidents while the military judges deliberated on their release.
An middle-aged man caused a small commotion in front of the court when he approached the crowd with a sign that read "Good dictatorship is better than evil democracy," causing the protesters to boo the man. Police officers quickly escorted him away from the scene.
All 14 activists are still facing additional outstanding arrest warrants for organizing anti-junta demonstrations on the one-year anniversary of the 22 May coup d'etat.