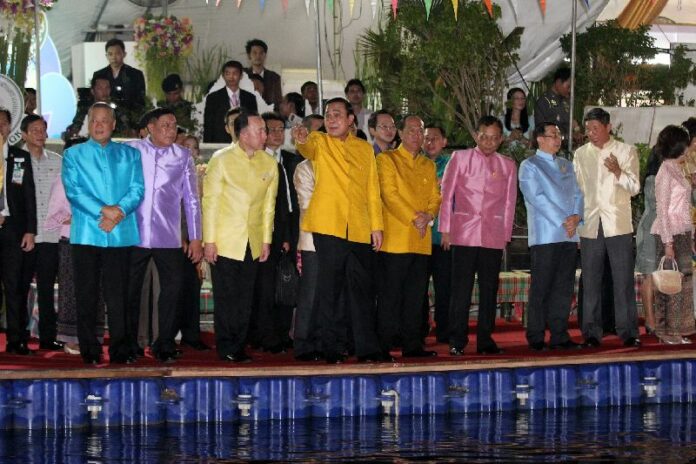 BANGKOK — Police say they have disrupted a plot to assassinate top government officials and arrested three men, two said to be from the northeastern of Thailand.
Police chief Chakthip Chaijinda announced yesterday that three suspects, a former police officer and two civilians, were detained after police foiled their plan to assassinate "important figures in the government" and stage terror attacks in Bangkok, though he gave no concrete details.
Rumors of a plot to assassinate junta chairman and Prime Minister Prayuth Chan-ocha began circulating on Monday.
"The actions of this movement cannot be yet disclosed. Everything is in the case file," Gen. Chakthip said Wednesday evening.
It is unclear when the three men were arrested.
The trio was identified as Police Sergeant Prathin Chanket, Pitsanu Promsorn and Nattapol Nawanle.
Khon Kaen governor Kamthorn Thawornsathit told Thai Rath two of the suspects hail from the northeastern province. The residence of the third suspect could not be immediately confirmed.
If the police claim is true, it would be the most high profile assassination plot on Thai government leaders since a failed car bomb targeted then-Prime Minister Thaksin Shinawatra in 2006.
Announcement of the foiled conspiracy came two days after junta deputy chairman Pravit Wongsuwan told reporters he had received intelligence of unspecified attempts to "sow unrest" in the northeastern region of Isaan.
"We have discovered there's a plot to cause unrest, which means there's still disorder and conflict," Gen. Pravit, who also serves as Defense Minister, said Monday. "Just thinking about causing conflict is already bad, but this is an organized attempt to cause unrest."
Northeastern Thailand has long been a stronghold for supporters of the government toppled by the junta in May 2014.
Redshirt leader Weng Tojirakarn said the three men are not related to the movement in any way, and cast doubt on the claim of a failed assassination.
"Redshirts don't know anything about this, and we definitely have no connection to this news," said Weng, a member of the Redshirts' official umbrella organization, the United Front of Democracy Against Dictatorship.
He continued, "Personally, I feel there's something fishy in Gen. Pravit's remark that there would be a popular uprising in the northeast, and there would be unrest during Bike for Dad event. I think this is a farce."
To reach us about this article or another matter, please contact us by e-mail at: [email protected].
Follow Khaosod English on
and
Twitter
for news, politics and more from Thailand.