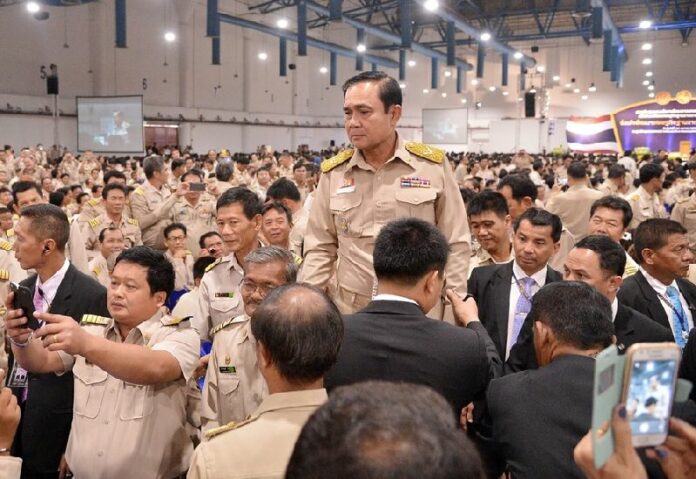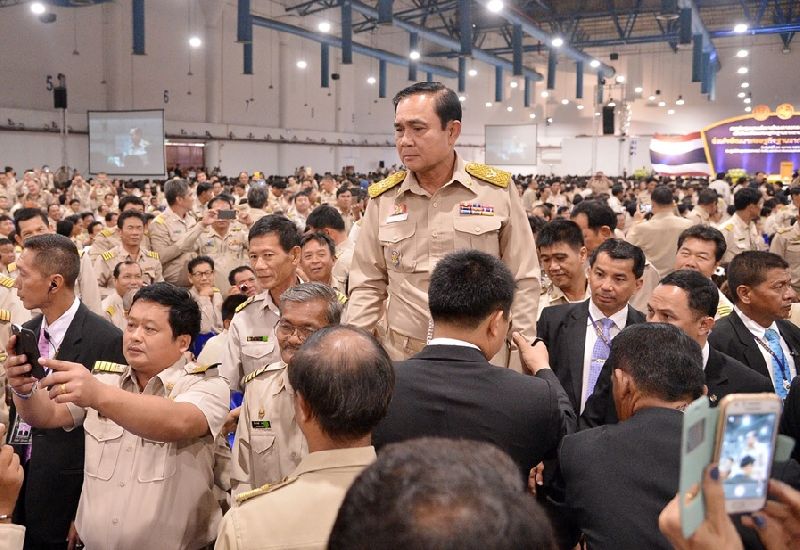 BANGKOK — The junta said today it can prove, once and for all, that former Prime Minister Thaksin Shinawatra has paid foreign lobbyists to sabotage Thailand's reputation and destabilize the military government.
But that proof is classified, for now.
"We have already collected some documents, but it's just we cannot disclose them at the moment," junta spokesman Piyapong Klinpan said at a Monday news conference.
The regime's claim comes amid a war of words between Thaksin and junta chairman Prayuth Chan-ocha, which opened Thursday when the general accused the influential former premier of plotting anti-government protests and manipulating Thai politics via his lobbyists.
---
Prayuth Names Thaksin as Plotter Behind Protests
---
"Who's doing this? Who's supporting them? Who's plotting all this?" Gen. Prayuth said. "Firstly, it's foreign lobbyists. Who? Thaksin!"
A day later, Thaksin, who has stayed largely silent following the May 2014 coup that removed his allies from power, hit back by denying the allegation on Facebook.
"I'd like to say this: I do not need to waste my money and hire anyone to expose the behavior of the Thai Prime Minister and damage the image of Thailand in the process," Thaksin wrote. "History has always shown that all dictators … will eventually meet their own doom."
The post, written with unusually strong language that Thaksin has avoided since the coup, went viral and gained more than 100,000 likes within 24 hours.
The exchange was the first instance of direct sniping between Thaksin, who remains the de facto leader of his political dynasty, and Prayuth, who toppled a pro-Thaksin government. Until Friday, the two men had made references to each other in public speeches, but, true to the Thai value of maintaining a conciliatory tone, had refrained from calling each other out.
With Thaksin's supporters demanding Prayuth back up his accusation with evidence, the junta's National Council for Peace and Order, or NCPO, is now doubling down by claiming the evidence exists, albeit behind closed doors.
"Whether Mr. Thaksin's activities are related to hiring lobbyists – as I think they are – as the prime minister has already said," Piyapong said. "But as for the details of the documents, the NCPO would like to keep them confidential for now, so that we won't play into the hands of people who challenge us."
Deputy Prime Minister Prawit Wongsuwan gave somewhat more specific details about the alleged evidence, saying that it was "foreign media" who exposed Thaksin's link to the lobbyists.
"He [Prayuth] spoke based on the information that foreigners published," Gen. Prawit told reporters Monday. "He didn't come up with it on his own. Foreign media wrote about it."
The general did not identify any specific report.
Related stories:
Prayuth Promises Not to Arrest Thaksin at Lee Kuan Yew's Funeral
Prayuth Asks Media To Stop Reporting About Thaksin
Official Calls Thaksin's Speech 'Dog Bites Man' Story
Don't Vote For 'Previous Politicians,' Prayuth Advises Nation
Teeranai Charuvastra can be reached at [email protected] and @Teeranai_C.