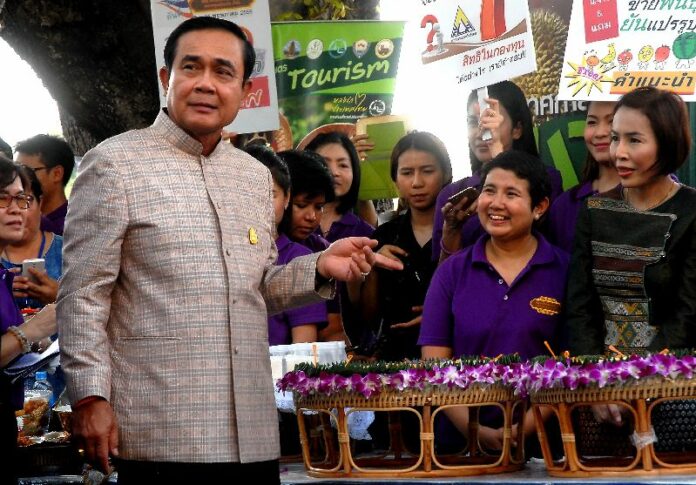 BANGKOK — Junta chairman Prayuth Chan-ocha said security officers acted within the law in their abduction and prosecution of eight people accused of running anti-government Facebook pages.
The eight suspects, who were taken away from their homes last week by soldiers without warrants, are now being held in prison to await their trial under martial court. Gen. Prayuth said the treatment is in accordance with human rights principles.
Lese Majeste Filed Against Two Facebookers, Anti-Junta Activist
"Exercising my power must not violate any human rights," Gen. Prayuth said Tuesday, according to the state-owned Thai News Agency. "By 'violate,' I mean using violence. All the [accusations] in the past have been lies. We never touched them at all, because we have always been careful."
The eight detainees are Nattatika Worathaiwit, Harit Mahaton, Noppakao Kongsuwan, Worawit Saksamutnan, Yothin Mangkangsanga, Thanawan Buranasiri, Suphachai Saibutr and Kansit Tangboonthina. They are in their 20s and early 30s.
They stand accused of receiving money from Panthongtae Shinawatra, the son of former Prime Minister Thaksin Shinawatra, to run Facebook pages that defame Gen. Prayuth and his military regime. All of them have been charged with sedition and breaking the Computer Crime Act.
Nattatika and Harit have also been charged with an additional offense of royal defamation, a serious crime punishable by up to 15 years in jail.
"Judging from the information, most of them violate Section 112 and Section 116, insulting the monarchy. Can Thai people tolerate this issue? So, please stop saying that are unfair to them, or we are using double standard," the junta chairman was quoted as saying.
Gen. Prayuth added that he's not seeking revenge on the eight suspects for mocking him in their Facebook pages. He said he simply wanted to uphold the laws.
"Some people keep violating the laws. They get released, they get arrested, they get released, they get arrested, it just kept going like this," Gen. Prayuth said. "Let me ask you, does it damage the justice system under my [regime]? I think so."
All of the eight suspects are being held in Bangkok Remand Prison, except for Nattatika who's being detained at a separate women's prison.
On Tuesday the military court rejected another bid by their lawyers for a release on bail.
Related stories:
Bail Denied to Facebookers, Lese Majeste Charges Weighed Against Them
Army Abductions: Activists Call for More Protests Despite Arrests
Protest Called for 10 Abducted by Military