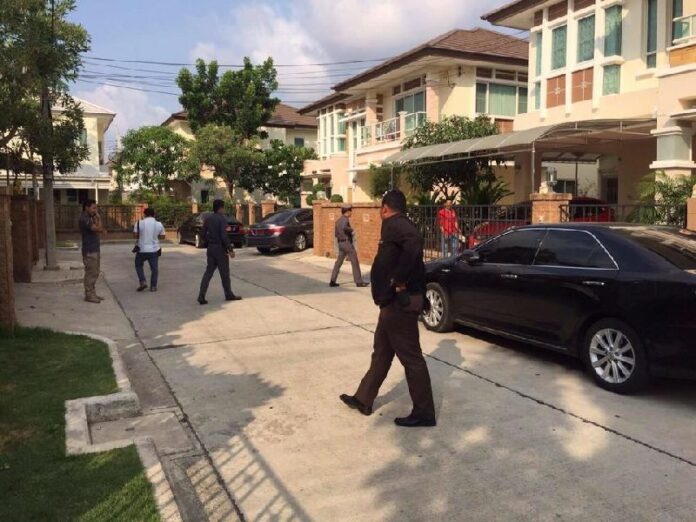 By Pravit Rojanaphruk
Senior Staff Writer
SAMUT PRAKAN — Soldiers and police early Thursday raided the home of former Pheu Thai MP Worachai Hema after he reportedly told the media that junta leader Gen. Prayuth Chan-ocha exercises his power in a fascist way.
About 10 soldiers entered into the 61-year-old's family compound without permission and removed electric cabling believed to be part of its CCTV system. Worachai was not there, but it's believed they were there to take him in for another round of detention.
A video clip apparently filmed from a house across the street shows soldiers inside Worachai's compound. The video and pictures show the morning raid at his residence in Samut Prakan province, just south of Bangkok. He was apparently not home during the raid and as of press time about 10 officers continue to wait inside Worachai's house.

Fellow former Pheu Thai MP Weng Tojirakarn said he lost contact with Worachai and doesn't know his whereabouts. Weng said Worachai had recently characterized Prayuth's use of power as to the extreme far-right in an interview with the media.
Also early Thursday morning, the house of the former deputy minister of Interior Ministry Pracha Prasobdee was reportedly visited by the military as well. It's unclear whether he has been taken in by soldiers or police.
The military also raided the home of Thanakorn Siripaiboon, a royal defamation suspect who's currently free on bail, and took away his computer, said rights lawyer Arnon. Thanakorn's father said he told military officers the temple where his son is ordained as a monk, according to a statement from Thai Lawyers for Human Rights.
Unlike Worachai and others, Thanakorn wasn't detained by soldiers in the visit, Arnon added.
Thanakorn was first arrested in December 2015 and subsequently charged with insulting the monarchy, an offense known as lese majeste, for posting snide remarks online about a dog of His Majesty the King. He was granted bail in March after nearly 90 days in prison.
Arnon posted on Facebook at 9:30am that the operation is part of an anti-crime sweep in Samut Prakan province. The lawyer said four houses were visited, including those of Worachai, Pracha and Thanakorn. The fourth was that of Redshirt leader Sombat Thongyoi.

From left, Worachai Hema's daughter-in-law with the CCTV camera she was ordered to remove, a white van with no license plates reportedly used by soldiers, and army officers inside Worachai's compound this morning.
Additional reporting by Chayanit Itthipongmaetee, Teeranai Charuvastra

Related stories:
Junta to Detain Critical Politicians 7 Days at Military Sites for Reeducation
Activists Expect Increased Use of Detention Before Charter Vote
Rajabhakti Scandal: Redshirts Demand Release of Leaders
Army Officer Visits Red Leader at Home for 'Attitude Adjustment'
.