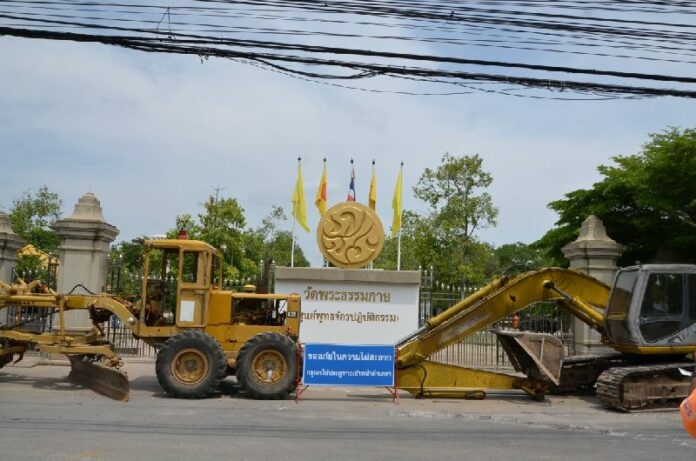 BANGKOK — Investigators were left scrambling Friday about how to respond Dhammakaya' announcement its fugitive leader would not surrender to authorities.
A day after the poweful sect's abbot refused to turn himself in, the temple went into siege mode Friday morning, urrounding its sprawling complex with thousands of faithful acolytes and barricading the entrances with heavy machinery.
---
After Show of Yielding, Powerful Dhammakaya Abbot Defies Authorities Again
---
Secular authorities, who hold a warrant for Dhammachayo's arrest on allegations of fraud, said they will mount an attempt to arrest the abbot without spilling blood.
The caution Friday was highlighted by Justice Minister Paiboon Kumchaya, who said investigators will apply for a search warrant and enter Wat Dhammakaya's grounds north of Bangkok to arrest Dhammachayo – bit only if resistance seems unlikely.
"Investigators have already performed their duties under their authority," Painoon said. "And now that there are people who obstruct and do not follow the laws, and will cause unrest and damage beyond our control, it won't be worth it for us to [arrest Dhammachayo]."
Dhammachayo, 72, is accused by the Department of Special Investigation of embezzling billions of baht from a credit union, whose former chairman is now serving a prison term for massive embezzlement The abbot has rejected the allegation as politically motvated.
After the court approved Dhammachayo's arrest warrant last week, the investigators' deadline for the abbot to surrender came and went on Thursday. Dhammachayo's press office said he was too sick to report to the police station.

'We are willing to die for our abbot,' reads one of the banners hung Friday at Wat Dhammakaya
Dhammakaya spokesman Ongart Thammanita repeated the claim in a news conference today. He said the abbot saw his world "spinning" before his eyes as he tried to get up from his sickbed, and insisted that the elderly monk needed to be closely monitored.
Illness has been cited on numerous occasions the abbot has failed to appear.
Ongart also rejected the accusation that his sect is using its followers as human shields.
"They won't obstruct officers enteribg the temple," Ongart said. "Don't worry that there will be clashes. At most, we will just invite them to sit and meditate."
But a crude defensive measure is already in place; Dhammakaya staff have parked two large earth movers to block the main entrance to the complex, though Ongart said it was meant to prevent provocateurs from harassing the believers.
Negotiation Proposed
The volatile situation paralleled similar conflicts pitting governments against ardent sects, such as the 1993 siege by U.S. federal agents of the Branch Davidian cult in Waco, Texas.
However, Justice Minister Paiboon said he will try to defuse the confrontation by brokering a negotiation between investigators and Dhammachayo.
He said he has already submitted a letter asking the interim Supreme Patriarch, Phra Maha Ratchamangalacharn, to serve as the mediator. There is no immediate response from the monk whether he will agree to the mission.
Phra Maha Ratchamangalacharn, 90, is said to have been a spiritual mentor for Dhammachayo, and the sect has agitated against the government to give him the post of the realm's highest spiritual authority permanently.
Incidentally, Ratchamangalacharn himself is also being investigated for alleged tax evasion over a collection of luxury cars at his temple in Samut Prakan province.
Related stories:
Hundreds of Monks Clash with Military West of Bangkok (Video)
Politics, Corruption in Battle for Naming New 'Supreme Patriarch'
Protest Prompts Officials to Postpone Dhammakaya Monks March
Thai Religious Authority Denies Acquitting Controversial Monk
Dhammakaya Abbot Allowed to Continue Monkhood