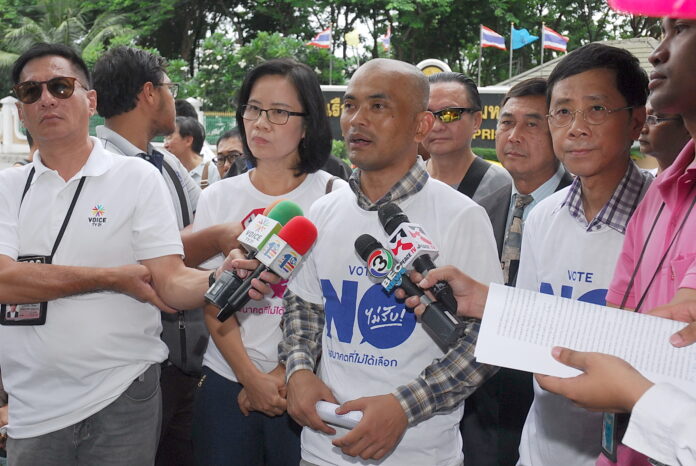 BANGKOK — The leader of 100 academics and activists who petitioned the Constitutional Court over a law which criminalized campaigning in the run-up to the charter referendum gives even odds the court will roll it back when it rules on its constitutionality Wednesday.
Jon Ungphakorn, director of the Internet Law Reform Dialogue, or iLaw, led the petition via the Office of the Ombudsman. He said that he expects significant loosening of legal restrictions if the court finds the clause unconstitutional.
"If the court is on our side, the National Council for Peace and Order's legitimacy in banning people from campaigning will be gone. In reality [the junta] doesn't have any legitimacy to begin with. But if the door is shut [by the court] we will need to discuss among members of society what to do next," he said, referring to the formal name of the junta which staged the May 2014 coup d'etat.
Jon thinks the ruling could go either way.
"It's 50/50. The first 50 percent is because the court may want to demonstrate its independence from the junta," he said. "The other 50 percent possibility is because the court won't change the status quo."
A ruling favorable to the group would grant a foothold for citizens to campaign publicly for or against the charter written by drafters hand-picked by the junta.
Thirteen people – democracy and labor activists – were arrested Thursday and charged with violating the Referendum Law, passed in late April. In Clause 2 of Article 61, it expressly forbids any campaigning, but enforcement has only been applied to those expressing opposition.
"I think it will make people bolder. I don't believe the junta can cite the ruling against the clause as an excuse to defer the referendum," said Jon, whose group iLaw advocates for reform of the legal system and monitors politically motivated cases. "They will be condemned, otherwise."
Mahidol University academic Gothom Arya was among the signatories.
He said the ruling, one way or the other, will make the rules clearer.
"I feel sorry for the lost opportunities to make the referendum process free, so the results can be considered as truly representing the will of the people."
Election Commissioner Somchai Srisuthiyakorn said any ruling by the court will not delay the referendum set for Aug. 7. He added that the junta's ban on political gatherings of more than four people remains in place even if Article 61 Clause 2 were voided.
Former Justice Minister and Pheu Thai Party member Phongthep Thepkanjana meanwhile said the junta can always pass a new order restricting public campaigns, even if the constitutional court found the clause unconstitutional.
Phongthep noted however that the referendum law of the previous 2007 referendum contains no prohibition on public campaigning.
Related stories:
Prison Conditions Being Made 'Unbearable' Jailed Activist Says
Constitutional Court Agrees to Review Repressive Referendum Law 
Prof Denies Breaking 'Vague' Referendum Law, Junta Spokesman Says She Did
No Thais Can Monitor Vote Because Law Didn't Say They Can, Commission Reasons