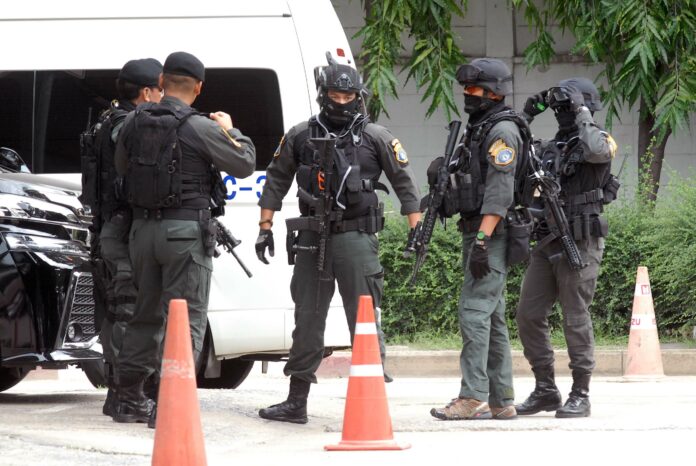 BANGKOK — Eleven people, including former politicians and local officials, are under arrest for allegedly misrepresenting the new constitution draft that will be put to a referendum this Sunday.
For their alleged misrepresentation of the charter in the batches of letters that they sent to their supporters, the suspects face severe charges of insurrection, conspiring against law enforcement and violating the referendum law, which bans any attempt to "mislead" the public to vote for or against the constitution.
Politician Faces Week-Long Interrogation on Army Base Without Lawyer
The 11 suspects were brought to the Crime Suppression Division on Tuesday to be charged with the offenses. Among the accused are Tassanee Buranupakorn, a 44-year-old former Pheu Thai MP from Chiang Mai province who was placed in military detention since Wednesday, provincial administrator Boonlert Buranupakorn and mayor Kachen Jeakkhachorn.
Winyat Chartmontree, the lawyer who represents the suspects, said police prevented him and a fellow attorney from seeing his clients.
"Police told us this is a part of the arrests that lawyers didn't need to be there," Winyat said by telephone. "We couldn't be there, we couldn't find out what was going on. This affects the rights of the suspects. They have the rights to consult their lawyers."
All suspects were later flown to the Chiang Mai regional police headquarters for further interrogation. The eleven can be held for 48 hours before police either ask the the military court in Chiang Mai to remand them in prison, or release them on bail.
Deputy police chief Sriwarah Rangsipramkul said the group "distorted" facts about the constitution draft in the letters that they mailed to their supporters in Lampang and Chiang Mai provinces, which police intercepted before they reached their destinations.
However, police have never disclosed the exact the nature of what the letters said.
According to Winyat, only one of the suspects has admitted to the offenses, while the others deny the allegations.
Related stories:
The A-Z of Sunday's Referendum Vote
Ad-Hoc Network Urges Public to Report on Referendum via Social Media
Ubon Ratchathani University Cancels Referendum Talk Under Pressure
Officials Powerless to Halt Assaults on Referendum by Schoolboys, Monkeys, Coffee Brand
Fewer Than 10 Observers From Anfrel Available for Charter Referendum