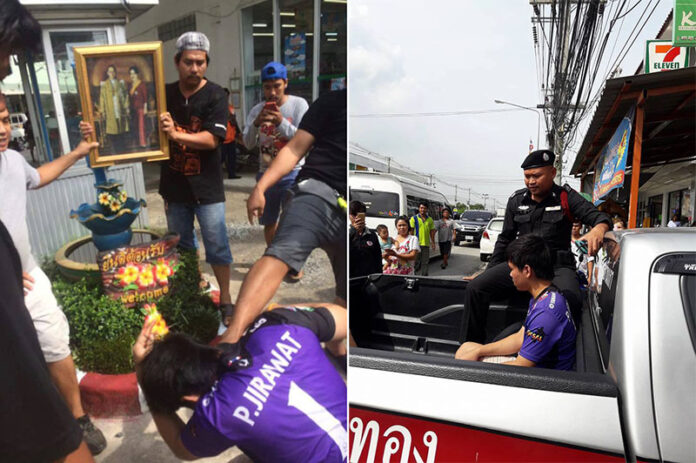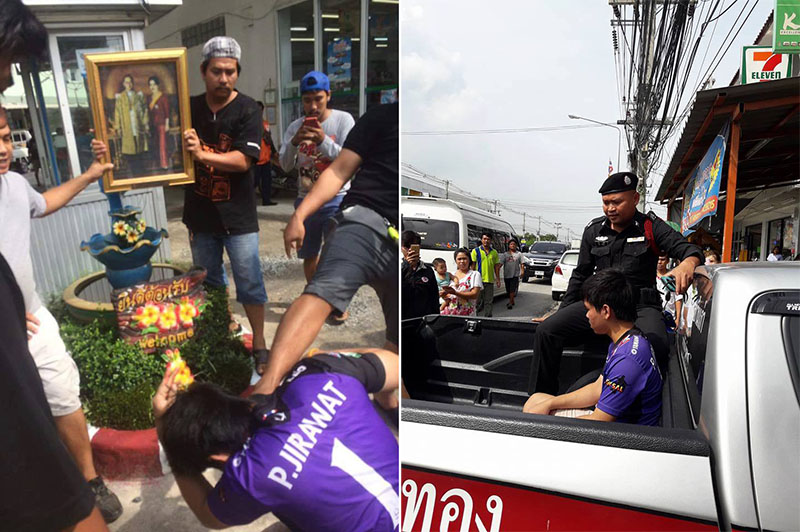 CHONBURI — A man was hauled out of his bedroom by a mob Tuesday, beaten and forced to apologize to a portrait of His Majesty the Late King for allegedly posting content defaming the monarchy on social media.
It was a scene that has played out in the past week in several provinces, where vigilantes have assaulted or harassed individuals accused of insulting King Bhumibol, the widely revered monarch who died at 88 on Thursday. Many of the incidents were filmed and spread on social media, drawing further condemnation of the victims.
Read: Calls For Calm Over 'Witch Hunt' Concerns After HM King's Death
The latest of such incidents was livestreamed over Facebook. In the footage, a man with a bloodied face is seen bleeding from a wound to his head as he is beaten and chastised before being forced to kneel in apology to King Bhumibol's portrait. One man kicks his head as he is bowing to the ground.
"You remember, that wound on your face is from a Phetchabun native! You insulted my royal father," someone in the crowd shouted.
Others threatened his life.
"Do you want to die here? Apologize to him now!" another man is heard calling.
Comments left on the video indicated the man worked for Thai Steel Cable PCL in Chonburi province.
Chotipat Hancharoen-asawasuk, the company's human resources manager, said the man in the video was 19-year-old Jirawat Pathumthong and admitted giving out his home address to an angry mob.
Jirawat, who works a night-shift, posted an offensive message about the monarchy Monday night, Chotipat said, despite the company's guidelines forbidding social media posts that could be interpreted as insulting to the monarchy.
Read: King Bhumibol 1927 – 2016
Company management learned about the post Tuesday morning and immediately fired him, Chotipat said.
"We summoned his relatives to the company even before the beatings," Chotipat said by telephone. "We told them to order him to remove our company's name from his Facebook bio section, and we fired him."
About 10 minutes later a large crowd gathered in front of the company and demanded to see Jirawat, according to Chotipat. He told the mob Jirawat no longer worked there and gave them his home address. He said that he didn't expect the vigilantes to take matters into their own hands.
"I gave away the information to show we weren't hiding anything, but they should have let the police handle it," Chotipat said. "They shouldn't assault him like that. I mean, you and me, we would want to beat the crap out of him, too, right? But it's not a right thing to do."
A photo later circulated on social media showed Jirawat in the back of a police vehicle, but the officer in charge of the case would not discuss the case other than to say police are investigating it.
"We don't know details for sure yet. The matter is still under investigation," Capt. Somsak Jailae of Phan Thong Police Station said. He referred the reporter to his supervisor, station chief Preecha Somsathan. Preecha said he was in a meeting and could not comment on the case.
Screencaps posted in discussions of Jirawat's offense showed he made comments in a Facebook group used by antique sellers. When someone chided him for making an apparent joke during national mourning period, Jirawat quipped back with a negative reference to the monarchy.
Due to strict lese majeste laws, which have become broadly applied to include most discussion of the Royal Family, Khaosod English is withholding the message's contents.
Tuesday's mob justice in Chonburi came one day after a woman was forced from a bus and slapped in Bangkok for allegedly insulting the monarchy, and two days after a large crowd on Koh Samui forced a woman accused of royal defamation to kneel in penance before King Bhumibol's portrait. Police later charged the woman with lese majeste, partly to placate the mob.
None of the vigilantes involved in these incidents is known to be under criminal investigation for any crimes.
Related stories:
Woman Forced Off Bangkok Bus, Slapped for Allegedly Insulting Late King
Mob Demands Woman Accused of Royal Defamation Kneel Before Portrait
Another Man Arrested for Lese Majeste in Phuket