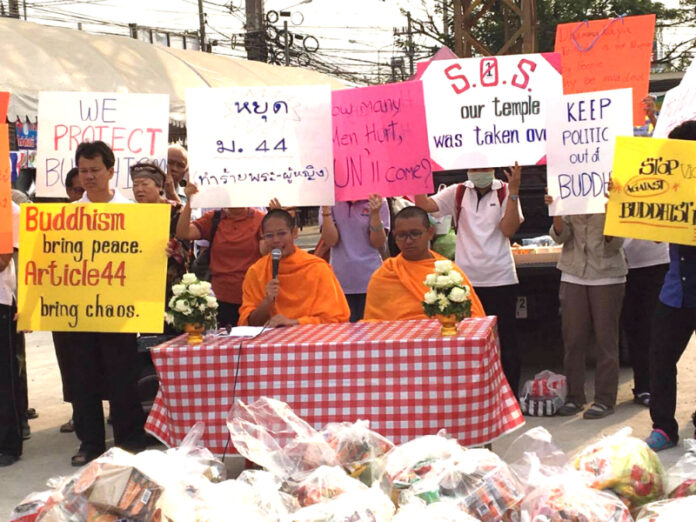 PATHUM THANI — The Department of Special Investigation, or DSI, said Saturday it is verifying whether a signal believed to have come from the fugitive former abbot at the center of their siege on a sprawling temple complex north of the capital was genuine.
The agency's director said the signal picked up one week was an outgoing call from inside the temple to a hospital in the Rama IX area at 4am on Feb. 18, two days after the DSI gained entry to Dhammajayo's room and found nothing but pillows in a human shape.
Read: Inside Wat Dhammakaya, Defenders Say Morale and Mistrust Run High
Director Paisit Wongmuang said he had ordered a search of the area where the signal was found, Matichon reported, as it may not have been used by Dhammajayo himself.
Paisit insisted the operation is not targeting the temple or faith, but only limited to arresting the temple's 72-year-old spiritual leader, who is wanted for allegedly accepting 1.4 billion baht of donations embezzled from a credit union.
Infowars
By coordinating with the telecommunications authority, DSI on Friday cut phone and internet signals inside the temple area to prevent its followers from communicating and coordinating on social media.
"They use social media to give out false information," said DSI deputy director Col. Songsak Raksaksakul. "It prevent officials from doing their duties effectively."
Songsak said they will evaluate the situation daily to decide when phone and internet service inside the temple area should be restored.
Dhammakaya representatives responded Friday saying the DSI was overreacting and impinging on their rights. They demanded the government to restore communications access and let society make up its mind through information from both sides.
The siege began Feb. 16 after junta chairman Prayuth Chan-ocha used Article 44 to declare the temple a restricted area in which authorities could act with impunity, free of legal accountability.
The confrontation continued Saturday with military and police blocking entrances to the temple.
Dhammakaya's monks and its followers continued to rally for the order to be revoked, and demanding the authorities open the temple' entrances as normal.
The National Office of Buddhism on Friday said the temple claimed no one knows the whereabouts of the abbot, who they said has not been seen in a long time.
Related stories:
Dhammakaya Monks Confront Soldiers Trying to Enter Unfinished Hospital
Inside Wat Dhammakaya, Defenders Say Morale and Mistrust Run High
Dhammakaya Bans Three TV Stations For 'Biased Reporting'
Old Grievances Flare on Social Media Over Dhammakaya's Divisiveness
Cops and Monks Clash at Wat Dhammakaya
DSI Orders Wat Dhammakaya Vacated by 3PM Sunday
Live Updates From Wat Dhammakhaya Raid
Junta Declares Dhammakaya Temple Controlled Area, Police Move in
Dhammachayo Removed as Abbot of Dhammakaya