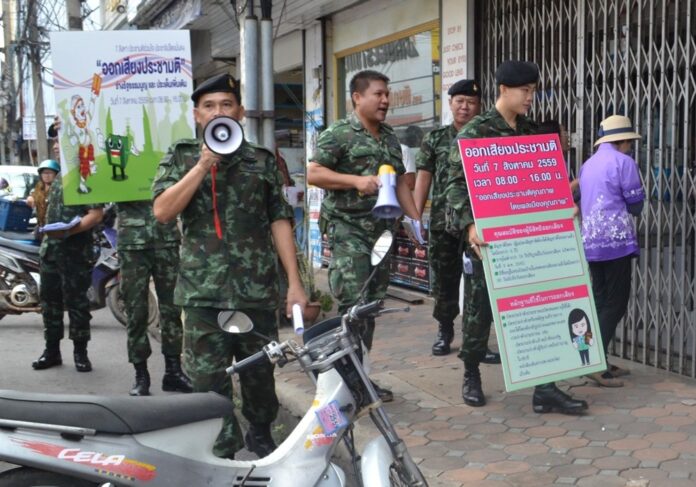 CHIANG MAI — A 63-year-old man arrested last year for campaigning against the junta-backed constitution was cleared of any wrongdoing by the court on Monday.
In what's described as the first court ruling in charges related to the 2016 referendum, a court in Chiang Mai said Samart Kwanchai was legally exercising his rights when he handed out leaflets urging people to reject the charter in August. Dozens of other activists remain on trial on allegation of violating the law in their campaigns.
An NGO observer who attended today's ruling said Samart, who spent nine days in jail, feels vindicated.
"He said he's happy, because he has always insisted he didn't do anything wrong," Noppon Artsamart of Thai Lawyers for Human Rights said by telephone. "He maintained that his pamphlets did not break the laws. He feels he has finally received justice, to a degree."
Samart was arrested July 23, less than two weeks before the vote, in which the charter was approved by a comfortable margin. He was charged with violating the referendum law for handing out leaflets telling people to reject the charter draft.
"Down With Dictatorship! Long Live Democracy! Vote No on Aug. 7," was written in the leaflets along with an image of the three-finger salute, an anti-junta gesture many activists adopted from the Hunger Games films.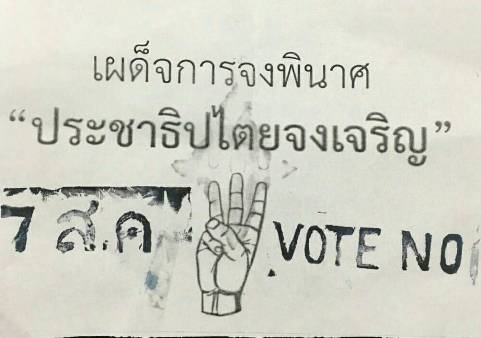 A referendum law passed several months earlier banned a number of vaguely defined actions, such as using "rude language" or "misleading people" into voting either way. It carried a maximum penalty of 10 years in jail.
But on Monday the court said Samart's leaflets did not fit wrongdoing described by the law because they were merely "abstract concepts," Noppon said.
"The court said it did not constitute an offense," he said.
Eight months after the charter was approved, dozens of activists, politicians and civilians remain on trial for violating the referendum law, which was routinely used to shut down campaigns critical of the junta's constitution.
Noppon said it's unclear whether prosecutors will appeal Samart's acquittal.