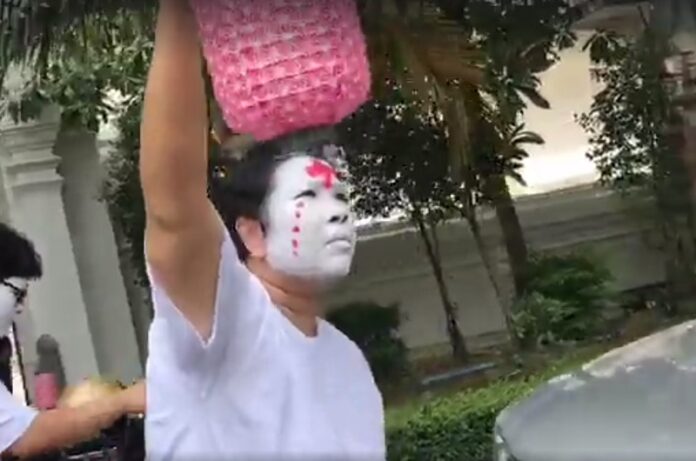 BANGKOK— Eight people were taken into police custody Friday at a downtown Bangkok temple after they staged a mime performance in memory of six people killed there in 2010.
Parents of those killed May 19, 2010, during a crackdown on Redshirt protesters were among the performers taken to the Pathum Wan Police Station at about 3pm after they finished their performance inside Wat Pathum Wanaram.
"Police were trying to say it was a political assembly," said student protest leader Sirawith "Ja New" Seritiwat, who was among those arrested and still waiting at Pathum Wan Police Station as of 5pm.
Sirawith said they were yet to be charged.
Lawyer Anon Nampha, who was among those performing, posted a photo showing himself and others inside a van at 3:22pm as they were reportedly being taken to the station.
The other seven included Pansak Srithep, a leader of pro-democracy Resistant Citizens group whose son was killed four days earlier; and Phayao Akkahad, whose nurse daughter was tending to the injuries of those inside was shot to death inside the temple on May 19.
Read: Police Set Up Barriers at Ratchaprasong on 7th Anniversary of Crackdown
The others were student protest leader Sirawith "Ja New" Seritiwat, Kritsana Kaikaew, Pitchaya Anantaset and Wannakiet Choosuwan, according to the Facebook account Prachatai reporter Sarayut Tangprasert. Sarayuth also said Nattapat Akkahad was an eighth person arrested, but Sirawith said he was not there.
Sarayut said about 100 police officers were inside the temple to handle the 15 people who gathered to perform or watch.
Wearing white shirts, each performer held a lantern as they symbolically "searched" the temple grounds for justice. Six performers painted their faces red and white to represent those killed there.
Reached for comment, the commander of Pathum Wan police said he was unavailable to speak.
The temple sits between Siam Paragon and CentralWorld along a stretch of Rama I Road that was essentially shut down for weeks by Redshirt protesters demanding the government call fresh elections.
Following a military crackdown that began at dawn and was winding down, there was quiet in that area as evening fell. The temple was considered a safe sanctuary by those who sought shelter or treatment inside, including several foreign journalists.
Kamonkate Akahad, the nurse, was tending to the injured when she was shot three times by high-power rounds. Five others were gunned down inside the temple.
The rounds were fired upon from an elevated position, and witnesses said men who appeared to be soldiers were firing from the BTS Skytrain line above the street. The army denied having units in the area.
Families of the victims later filed lawsuits against then-Prime Minister Abhisit Vejjajiva and his deputy Suthep Thaugsuban for ordering the crackdown. After many delays, the courts kicked out the case in February 2016.
Additional reporting Todd Ruiz