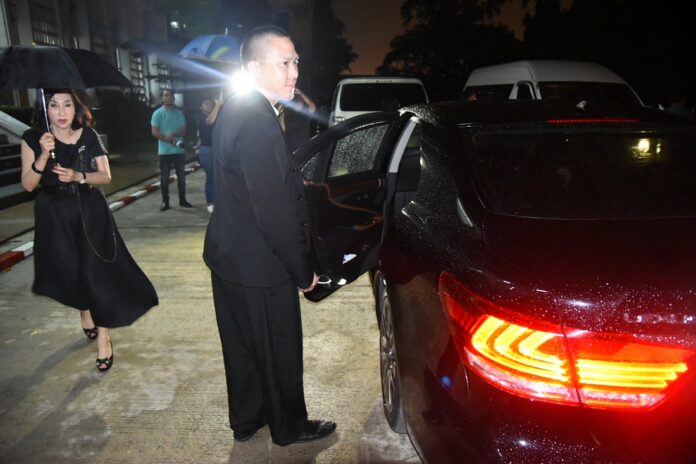 AYUTTHAYA — After businessman Jenphop Viraporn finished telling the court Friday his version of events that led to a crash that killed two graduate students a year ago, the prosecutor asked him a simple question: did he seek treatment at a certain hospital from 2011 to 2013?
Yes, Jenphop said, before adding that he was an outpatient. The attorney cut him off and shot another question.
"You were there to quit drugs, were you not?" prosecutor Siripong Sitthiseriphap pressed him. "For crystal meth and cocaine. Is that true, Mr. Jenphop?"
Jenphop admitted to having a history of using those substances, but maintained that he quit them for good and never went back to using. The questions soon turned to the heart of the legal battle waged between the prosecutor and the 39-year-old scion of a luxury car dealership for the past year: whether he refused a sobriety test in the aftermath of the crash on March 13, 2016.
Read: Eyewitnesses Describe Fatal Crash at Opening of Jenphop Trial
Police said he did, which under the law automatically led to a charge of DUI, which carries a maximum penalty of 10 years in prison. At the witness dock on Friday, Jenphop offered the crux of his defense – that he did not mean to cause the accident that left two victims dead in a fiery wreck, that he was not under any influence at the time of the crash, and that he never turned down a police request for sobriety test.
Because Jenphop has never given any media interview since the crash, his Friday testimony was the first time he publicly gave his own version of the events. Cross examination also touched on his personal history, such as his struggle with depression and a regular use of antidepressant which may have effect on his driving.
At the start of Friday's session, judge Waikoon Sawangsuree told Jenphop and the families of the two deceased students that he was willing to listen to any circumstances or intent behind the crimes. He recalled an anecdote of handing down different verdicts to a man accused of selling yaba to a fellow drug user and another who allegedly sold it to schoolchildren.
"The same offense committed by different people can be punished with different severity," Waikoon said. "I want society to understand this."
No Objection to Test?
Jenphop is facing a number of charges for the crash that killed grad students Krissana Thaworn and Thantaphat Horsaengchai. He confessed to speeding and fatal reckless driving, but denied others, including the most serious pressed against him: driving under the influence, which carries a maximum penalty of 10 years in prison.
Police said Jenphop repeatedly refused a test for alcohol and other intoxicants in the aftermath of the crash, which under the law required them to assume he was driving under those substances and file a charge of DUI.
At Friday's session, Jenphop was quizzed by his own lawyer, the prosecutor and plaintiff attorney. He appeared relaxed most of the time, but raised his voice in anger during some heated exchanges.
Also attending the court were his parents and families of the two students he killed, Krissana and Thantapat. Only one reporter was there during the testimony.
Jenphop said he did not recall police asking him for a sobriety test. He said he only remembered one policeman visiting him at Bang Pa-In Hospital hours after the crash when he was still delirious under the pain. He maintained that he was not asked for a blood test.
"I saw someone in [police] uniform but he didn't talk to me," Jenphop said. "He was turning to a woman in the medical gown. I think she was either a doctor or a nurse."
In an infamous television interview that later went viral on the internet, a local police chief admitted that he did not insist on a sobriety test on Jenphop, but only "asked" the hospital to do so. The officer, Col. Pongpat Suksawasdi, also said Jenphop had the right to decline the test if he wished. His remarks sparked outrage on social media, where many suspect police were easy on him due to his affluence.
Following a storm of criticism, Pongpat and the first team of investigators were soon replaced.
While claiming that the memory of his time in hospital was spotty, Jenphop also said that he had declined any operation that involves needles because he had a phobia for them.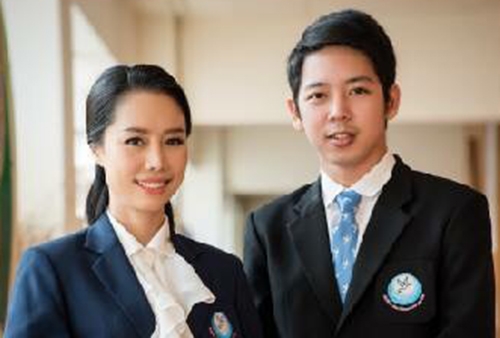 "Just by seeing a needle made me nauseous and forced me to turn away," Jenphop told the court, adding that he usually avoided any use of needles "unless absolutely necessary."
Although police made another request for blood test, Jenphop said he delayed their request until March 28, when he had to give up blood sample for a knee surgery.
But by that time any trace of illegal substance would have vanished, so the investigators order a more detailed test on Jenphop's DNA samples – specifically his hair – which would allow them to check for any residue of any intoxicant or antidepressant, said prosecutor Siripong. Jenphop said he declined because he thought the blood sample he had already given could substitute as a testing material.
"I did not object to giving it," Jenphop said during a particularly intense questioning from the prosecutor. "I just thought it was unnecessary."
Siripong pressed on.
"The document specifically asked for your hair, not your blood," he said.
Jenphop replied.
"I thought it meant any part of the element of my body. I didn't know they were asking for my hair. I didn't even know what the test was for!" he said.
Police eventually decided to file a charge of DUI and resisting laws enforcement officers against Jenphop.
Drugs and Speed
Throughout more than two hours of Jenphop's testimony and cross examination, other details emerged for the first time about his mental and family background. Jenphop said he suffered from depression, occasional fights with his parents and an uncontrollable rage that prompted his family to admit him to a psychiatric institution some years ago.
Because of his condition, Jenphop told the court he was prescribed nine different medications. One of them is Lexotan, an antidepressant based on bromazepam, which he said could impair driving and his concentration. He never took it when he had to attend meetings or drive long distances, he added.
Although police found the drug in his car, Jenphop insisted he did not take it before driving that day. However, he admitted to taking one just before he went to bed the night before.
Asked whether the specific packet of Lexotan was the one prescribed by his doctor, Jenphop said he lost the actual pack and bought a new one on his own, which carried a larger dose, but he maintained that he took care to divide each tablet by four.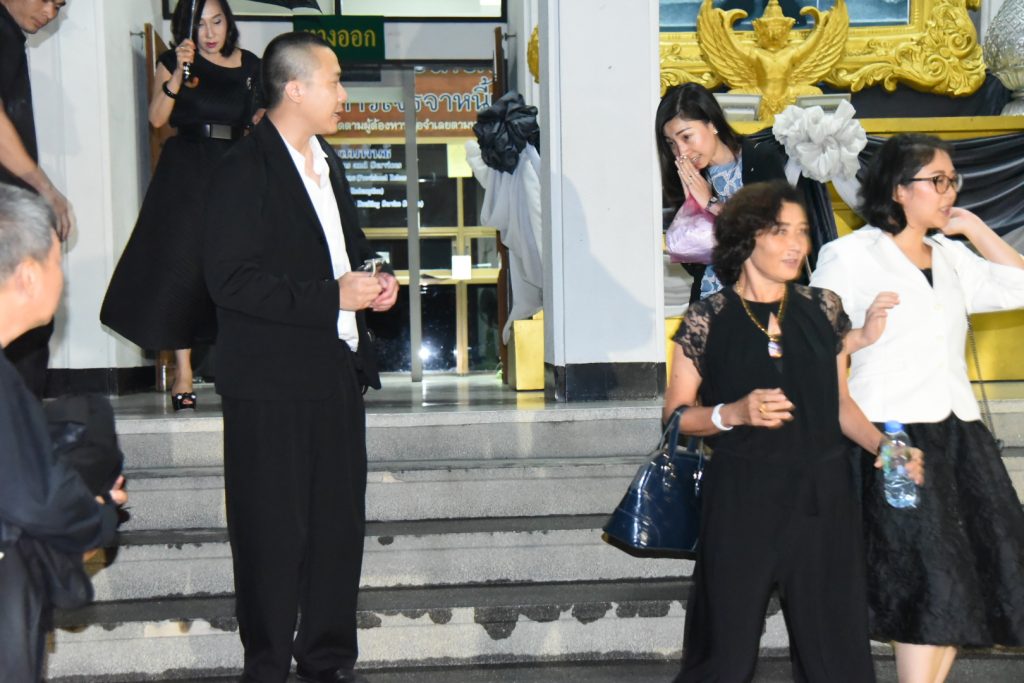 He also told the court the sequences of events that led to the crash on the Ayutthaya highway. Asked about a video that showed his Mercedes-Benz plowing through a toll booth, Jenphop said he thought it would open for his Easy Pass, but the gate malfunctioned.
Police said he crashed into the Ford Fiesta driven by Krissana at more than 200 kph. Jenphop said he only accelerated to that speed when he tried to overtake a car. He said the Ford appeared to be shifting to the right lane, so he sped up his car, but the lane change didn't happen.
"Just several seconds before the impact, the car I crashed, I don't know if he changed his mind or what, but he came back to the left lane," Jenphop said. "I was shocked. I was about to crash now."
He said he tried to brake and stop the vehicle, but the tremendous speed meant the car ended up slamming into the Ford, setting it on fire and killing the two victims.
Concluding his testimony, Jenphop said he regretted his action and had made many attempts of remedy, such as ordaining as a monk to make merit for the two victims and paying compensation to their families.
A verdict is expected on July 19.