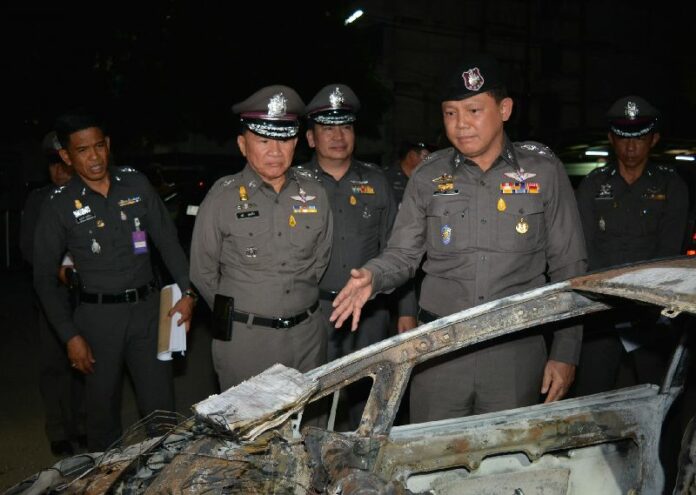 By Teeranai Charuvastra
Staff Reporter
AYUTTHAYA — The police officers investigating Sunday's deadly collision that left two dead on an Ayutthaya highway have been replaced following criticism they failed to test the driver for alcohol and drug use.
Police said yesterday that new officers have been brought in to oversee the case against 37-year-old Jenphop Viraporn. He was only charged with fatal reckless driving yesterday, three days after he slammed his Mercedes-Benz into a Ford Fiesta at high speed, killing two graduate students inside. Both victims – a man and a woman – were in their early 30s.
"We have just appointed a new investigative team," national police deputy commander Pongsapat Pongcharoen announced Thursday. "They are capable and knowledgeable. They have experience in working on many investigations. The public can trust in police work; we will not help anyone in particular."
---
Businessman Charged for Fatal Collision Amid Mounting Criticism
---
An investigative committee has also been convened to find out whether local police breached any procedures in order to assist Jenphop, a businessman whose family owns luxury car dealerships.
"[We will] investigate the performance of investigators that worked with such a delay that it caused doubts among society," Pongsapat said at Thursday's news conference. "If we find any wrongdoing, we will proceed with disciplinary action."
Frustration has built on social media since Sunday over the possibility the case would go nowhere. That escalated when it emerged police didn't test Jenphop for sobriety after the crash. In an interview with Nation TV on Wednesday night, Phra-Inracha station commander Pongpat Suksawasdi said Jenphop declined to be tested.
Jenphop has been hospitalized in Bangkok since the accident on Sunday, for what police described as injuries to his head and knees.
Scrutiny and frustration also built up on social media at police's seemingly lenient treatment of Jenphop. Chief among the complaints was the police's admission that they did not test Jenphop after the crash.
Ayutthaya police commander Sutthi Puangpikul said Thursday that there was "miscommunication" between the hospital and police about the sobriety test, while Col. Pongpat, head of the police station in charge of Jenphop's case, told Khaosod the suspect's family moved him to another hospital in Bangkok before police could test him.
Police also waited four days before formally charging Jenphop for fatal reckless driving. Pongpat said Jenphop suffered injuries to his head so he was only ready to give testimony Thursday.
Related Stories:
3 Days After Causing 2 Road Deaths, Auto Scion Not Yet Charged
Businessman Charged for Fatal Collision Amid Mounting Criticism
Teeranai Charuvastra can be reached at [email protected] and @Teeranai_C.