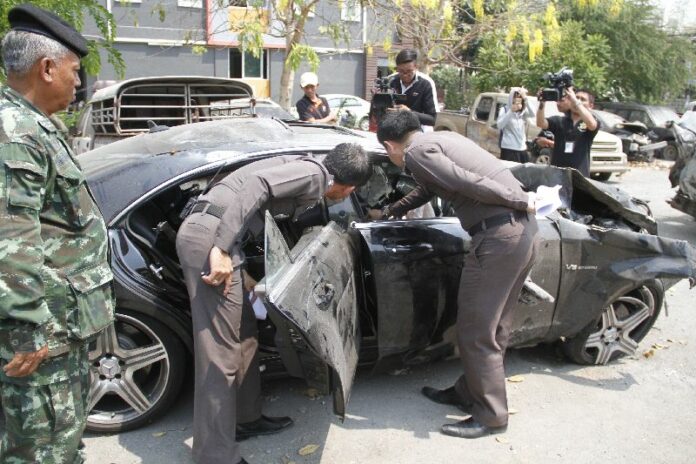 AYUTTHAYA — Police today charged a luxury car dealer with deadly reckless driving four days after his speeding Mercedes-Benz barreled into a car on a highway, killing the two people inside.
The charge against 36-year-old Jenphop Viraporn was filed Thursday amid frustration expressed on social media about the investigation into Sunday's crash, including questions about why police did not test Jenphop's sobriety in the aftermath of the daytime crash in Ayutthaya province.
Lt. Col. Somsak Polpankwang of the Phra-Inracha Police Station said officers visited Jenphop in the Bangkok hospital where he's been since the accident to inform him of the charge.
"Please wait until we have completed the investigation," he said.
Read: 3 Days After Causing 2 Road Deaths, Auto Scion Not Yet Charged
Asked about Jenphop's injuries, Somsak said the suspect is "hurt in some parts" of his body, but maintained that he is conscious and lucid enough to answer questions. Somsak declined to say what Jenphop said during the visit.
The Sunday accident was captured from another car's dashcam. In the footage, a Mercedes driven at high speed fails to get around and slams into a Ford Fiesta driving in the highway's fast lane. The wrecked vehicle quickly caught fire, killing the two people inside.
https://www.youtube.com/watch?v=YbQBZue6190
Jenphop owns luxury sport car dealership Luxotic Auto.
Frustration has built on social media since Sunday over the possibility the case would go nowhere. That escalated when it emerged police didn't test Jenphop for alcohol or drugs after the crash. In an interview with Nation TV on Wednesday night, Phra-Inracha station commander Pongpat Suksawasdi said Jenphop declined to be tested.
When the news host pressed Pongpat how and why such a thing could be waived for a suspect in a fatal car crash, Pongpat said it was a "suspect's right" to decline testing.
Pongpat could not be reached for comment Thursday.
Attempts to reach Jenphop's family today were unsuccessful. However his father, Jetsada Viraporn, admitted Thursday in media interviews that his son has been involved in road accidents before as alleged in social media. But he said they were the type of "minor accidents" all drivers experience, and Sunday was the first time his son caused anyone to die.
One driver posted a police report to Facebook page CSI LA detailing an incident in which he alleges Jenphop crashed into him and fled the scene.
"[My car] was in a hit-and-run with his once four years ago," wrote Pongsiri Saeheng. "I filed a complaint but nothing happened. That time [he drove] a BMW [with the same license plate number.]"
In an interview with MCOT, Jenphop's father said his son had no memory of the crash and he asked people not to rush to judgment. He said they would act responsibly toward the families of the deceased.
Related stories:
3 Days After Causing 2 Road Deaths, Auto Scion Not Yet Charged
Teeranai Charuvastra can be reached at [email protected] and @Teeranai_C.