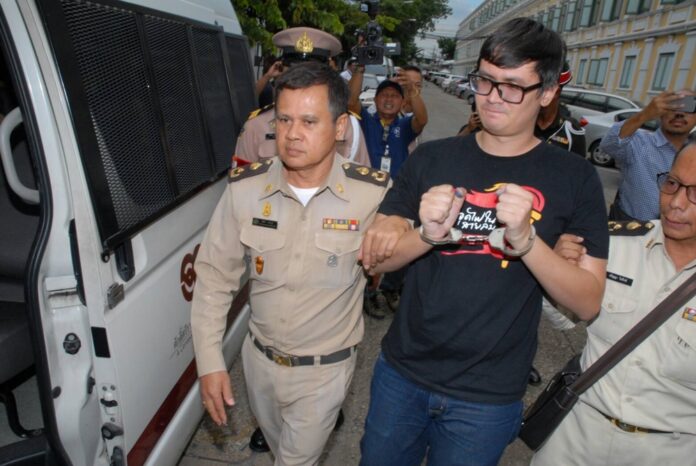 Update: Rangsiman Rome filed the petition 30 June. 
BANGKOK — Released after being detained overnight, pro-democracy activist Rangsiman Rome said Monday he would continue to demand transparency over a 179-billion baht rail project the Thai military government recently signed with China.
Rangsiman initially planned to submit a petition Monday asking the government to reveal details of the controversial Sino-Thai railway construction but was arrested by police a day prior. The 25-year-old activist, freed on bail by the military court yesterday, said his group would file the request soon.
"I would like to announce the date on our Facebook page. We will make a formal announcement," Rangsiman, who leads activist network Democracy Restoration Group, said by phone. "I think we will find out the date soon."
Read: Activist Cites Chinese Rail Project as Reason for His Arrest
A spokesman for the junta said Rangsiman is free to do so.
"To file a complaint or request to the government is a normal thing to do," Col. Winthai Suvaree said Tuesday. "Any citizen can do that."
He said he's not aware of any attempt by security officers to deter Rangsiman from submitting his transparency request.
Police on Sunday arrested Rangsiman on the allegation that he ignored an August 2016 appointment with the prosecutor for a charge related to his campaign against the junta-backed charter draft two months earlier.
But Rangsiman said he never received any summon and accused authorities of fabricating the allegation to stop him from submitting his petition. The chief of Bang Sao Thong Police Station, which was responsible for the warrant, said Tuesday he was in a meeting and could not comment.
The activist was detained for a night at a police station holding cell before the military tribunal freed him on bail Monday night. The bail also came with the condition that he could not "incite unrest." He was also barred from traveling abroad without permission.
Rangsiman said he believes his transparency campaign would not violate those conditions.
"I think requesting information does not fit that definition," the activist said. "We only want facts about the agreement between the Thai and Chinese governments – which by principle, the public is entitled to know."
Junta spokesman Winthai said whether security officers would take any action depended on Rangsiman's action on the day he files the request.
"It's not about who he is, it's about what his behavior might be," the colonel said.
Rangsiman's group announced last week they will petition the government to publicly disclose details of the high-speed railway project the Thai government awarded to Chinese firms earlier this year.
Critics oppose the deal on grounds that it lacks accountability and may give the Chinese counterpart the upper hand over Thailand , an allegation the junta denied.
Related stories:
Did Thailand Get Railroaded by the Chinese? No Way, Govt Says
Junta Exempts Chinese from Thai Law to Build Railway
Junta to Sidestep 5 Laws to Move Stalled Railway Project
Prayuth Asked to Use Absolute Power to Let Chinese Build Railway