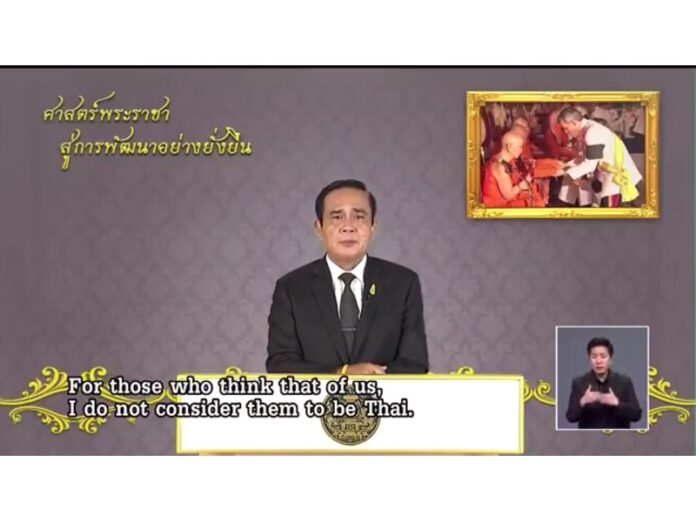 BANGKOK — The prime minister said during his weekly televised address Friday night that he didn't consider those who believe the military junta will hold power for another 10 to 20 years to be Thai.
Towards the end of his 41-minute address – which all free television stations are required to broadcast every week – Junta leader Gen. Prayuth Chan-ocha said his government and the National Council for Peace and Order, the formal name of the junta, do not seek to be in power for 10 or 20 years as feared by opponents and critics.
"We do not wish to control politics or democracy for the next 10 to 20 years. For those who think that of us, I do not consider them to be Thai," said Prayuth, who staged the May 2014 coup before making himself prime minister.
The remarks drew a swift reaction from anti-junta academic Anusorn Unno, who said such remark shows the junta leader is reveling in his autocratic power.
Anusorn, a sociologist and a prominent critic of the junta as coordinator of the Thai Academic Network for Civil Rights, which was formed after the coup, was appalled by Prayuth's statement.
Anusorn said on the phone Saturday morning that no one has the right to monopolize Thai identity.
"Reveling in his autocratic power, Prayuth tries to monopolize Thainess. This is very alarming. Who gave Prayuth the right to be the representative of Thainess?"
Anusorn said he's still convinced that the junta will try to maintain control for the next two decades through various means designed under the constitution – which was penned by junta-appointed charter drafters. Such mechanisms include the junta's appointment of nearly all of the 250-member senate and the establishment of 20-year national strategic committee headed by Prayuth which would determine the course of politics for the next two decades.
Meanwhile, Prayuth added that three years on, the issue of how the current military regime had come to power has become less of an issue to the international community.
"Right now, others around the world may not take an issue with how this administration came to be, as there has been some understanding," said Prayuth. "What they care more about is peacefulness and orderliness. This is because if there is no stability, trade, investment and economic activity will halt."
Urging Thais not to listen to politicians who "only care about their political interests," Prayuth sought to reassure viewers that Thailand is committed to being a democratic nation.
"We must ensure our internal state of peacefulness and orderliness. I am not saying Thailand will change. I have said many times that we have been a democratic country for 85 years. Let us examine what 85 years of democracy has brought us," Prayuth said. "We cannot turn [Thailand] into another system. But let us fix what is wrong and make successful changes that are appropriate at this time… We can become a full-fledged democracy suited to our way of life, history and culture."