BANGKOK — Rieng Kongthum was 45 when she took possession of land in the southern province of Krabi in 1982. She used part of it to grow rubber trees.
Now she's an 80-year-old grandmother squatting in a temporary, roadside hut after soldiers showed up to cut down her trees and evict her from that land.
"When I wanted to enter the rubber tree plantation, about 300 soldiers were cutting all of my rubber trees," she recalled of that morning in August 2014. Officials told her that her name was on the original deed only for another party.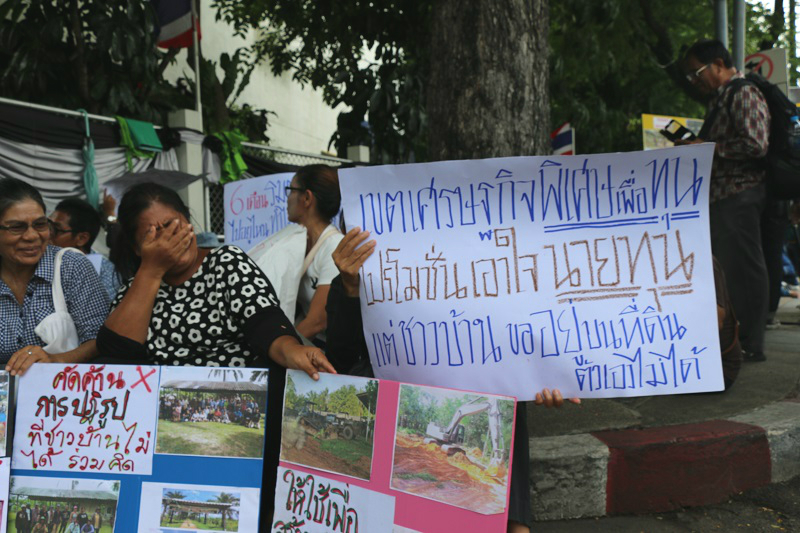 Although she was the registered landowner, part of the property fell in what was later declared part of a new national park, though no one took action against her until that day three months after the junta seized power in a coup.
Rieng was among nearly 100 people who have lost their homes and farmland under a junta policy to reclaim forest and public lands to gather Monday near the Government House and call on the military government to stop treating the poor like an enemy.
Brought together under a civil group called the People's Movement for a Just Society, or P-Move, members traveled from throughout the nation to seek a meeting with the official in the prime minister's office responsible for handling dislocated people such as them.
Specifically, they wanted Minister Omsin Chiwaphruek to convene his committee, which hasn't met since March.
In the end, Omsin did not meet with them but sent a representative to hear their requests.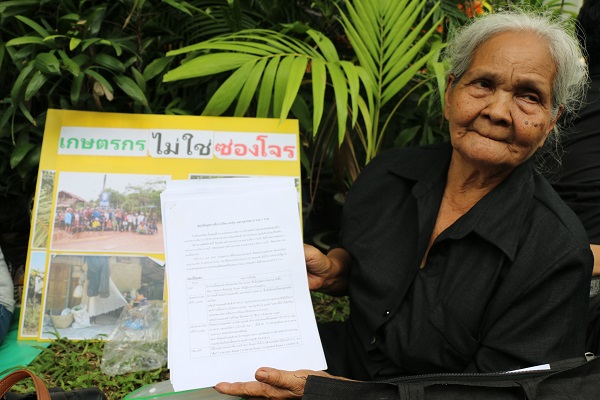 In a joint statement, P-Move called on the government to stop prosecuting local residents and compensate six people who lost their land in the northern province of Tak that was declared part of a special economic zone to be leased out for industrial use.
"The government's policy is to seize land used for residential and income purposes by the poor in the name of the reclaiming forest land," read the statement. "It made a million people in those communities into trespassers."
Instead of protecting the land for public benefit, the network says the military government's policy enriches private enterprise by leasing the land in its economic zones to foreign investors. The leases are for periods of 99 years and come with many incentives.
Rieng, the now-homeless woman from Krabi, said it will be the fourth time this year she's traveled to the capital to petition the government for relief and gone back empty-handed. She's asked for compensation for her land and a new place to live.
The crowd was not allowed to enter the Government House and only 10 representatives got to meet with Omsin's appointed representative. In the end, they left with an agreement to schedule a meeting two months from now, on Nov. 24.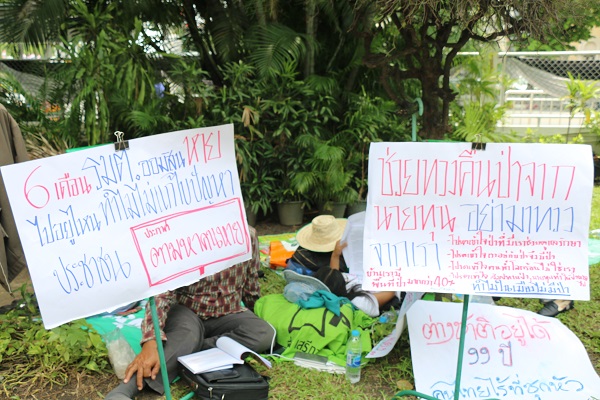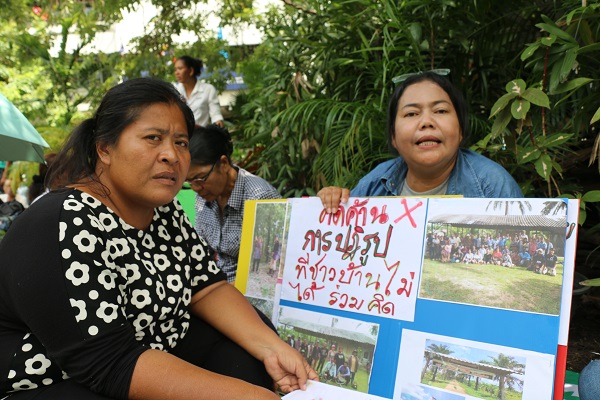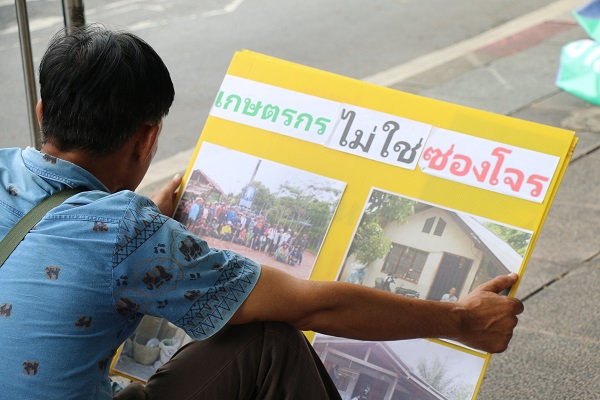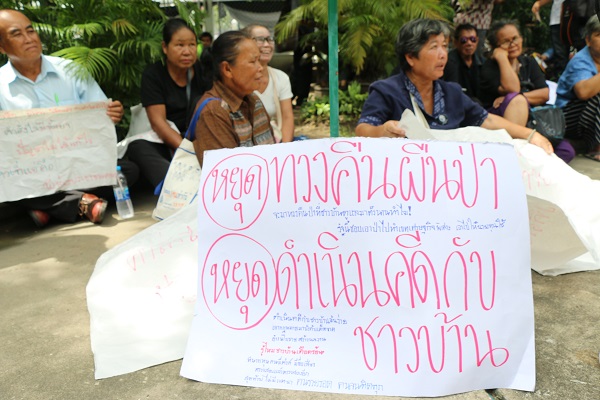 Related stories:
Junta to Order Oil Production Restarted on Protected Land
Oil Extraction on Protected Land Resumes Under Junta's Shield
Red Bull Cancels Lease of Controversial Public Land
Junta Permits Power Lines on Protected Land