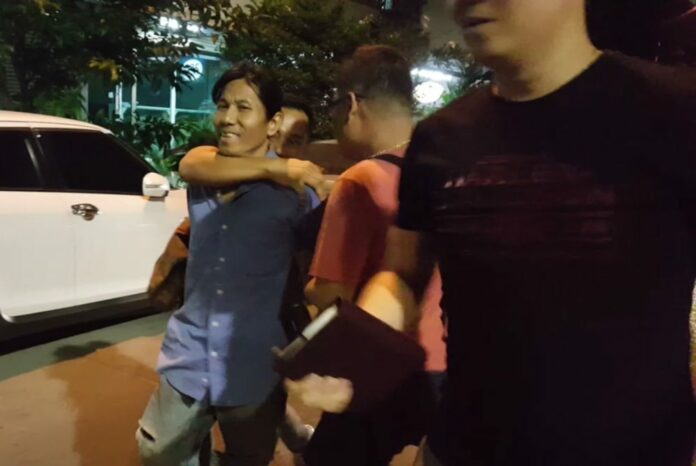 BANGKOK — The military is questioning a man accused of stockpiling explosives in his apartment in a northern Bangkok suburb, a police commander said Wednesday.
Kritchapon Poonsilpa, 53, confessed to receiving various explosive devices, mostly makeshift ping pong bombs, from a man with ties to a missing Redshirt militant, according to Lt. Gen. Suwat Chaengyodsuk from the Bangkok police force.

Suwat said Kritchapon is being held at the 11th Army District base, part of which has been converted into a special prison. Under a special order granted by the junta, soldiers can detain suspects without charge or warrant for up to seven days.
"The military is now in charge of this," he said. "We have sent him for processing and discussion. We have not made any new arrests. But I don't know about the military."
Defense spokesman Kongcheep Tantravanich would not give any details other than to say the junta would hold a news conference about the investigation soon.
"Please wait for information from the NCPO," Maj. Kongcheep said, using the junta's acronym. "Please let them investigate first."
Kritchapon was arrested Monday at an apartment in Nonthaburi where police said they found a cache of 33 explosive devices, from a hand grenade to homemade pipe bombs. Investigators said they received a tip about the stockpile.
Deputy police commissioner Srivara Ransibrahmanakul said Kritchapon belonged to what the authorities call the "Ko Tee Network," an alleged militant cell run by hardline Redshirt activist Wutthipong "Ko Tee" Kochathmmakun.
The arrest also came at a time government officials suggest postponing the next election from November to early 2019, citing the need to maintain peace and order.
Pro-democracy Nuttaa Mahattana said she's convinced the regime will come up with excuses to delay the poll, with or without the alleged discovery of the bomb stockpile.
"The bombs could have been real or a setup, it's all possible," Nuttaa said. "No matter what, they want to delay it anyway, regardless of what methods they will use. It's up to us to stop them from delaying."
Several people have been arrested with links to Wutthipong, who, from exile in Laos, advocated the use of force against the regime up until he was abducted there in July. He was never seen again.
According to police, Kritchapon said he received the bombs from an in-law of Wutthipong who was arrested for on similar suspicions at his family home in March. The in-law, Thirachai Udonwichian, is awaiting trial in prison.
However, Suwat said Kritchapon did not directly name Wutthipong when police arrested and questioned him Monday.
"He didn't mention Ko Tee. He only mentioned [Teerachai]," said Suwat, whose force led the raid. "Ko Tee's name never slipped from his mouth."
The police commander added that he was not going after the missing Wutthipong.
"We are not targeting anyone in particular. Someone gave us information … so we went to check," Suwat said. "We are not hunting anyone."