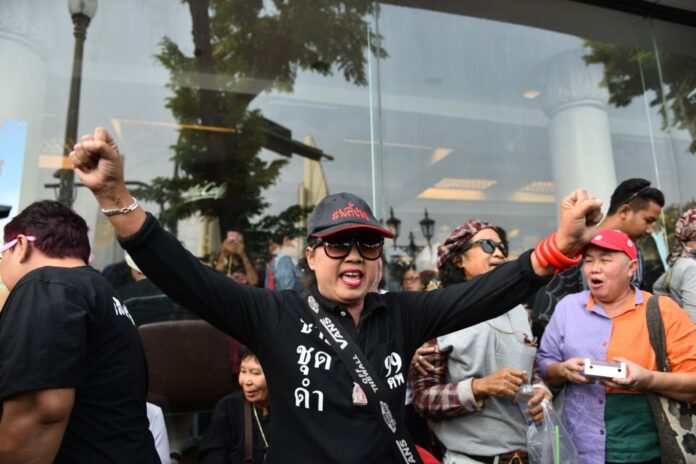 BANGKOK — Familiar names from the pro-democracy movement were among the 43 people the junta wants prosecuted for attending a recent rally demanding elections be held this year.
Activist Piyarat Chongthep, leftist Chotisak Onsoong, former lese majeste convict Daranee Charnchoengsilpakul, 2010 crackdown justice advocate Pansak Srithep, student activist Netiwit Chotiphatphaisal, civil rights lawyer Wiboon Boonpattararaksa and academic Anusorn Unno and 36 others were named in complaints Thursday.They are accused of violating the junta's ban on protests.
Daranee, who served a eight year sentence for defaming the royal family, said she wasn't there for the protest and pledged to sue the regime if it prosecutes her.
"I'll fight my case in the administrative court," Daranee said, adding that she would sue them for malfeasance. "I won't ask for bail. I'm willing to go to jail so I can sue them."
The junta rep who filed the complaints, Col. Burin Thongprapai, declined to discuss why those 43 were singled out from the 100-plus protesters.
"I don't know," Burin said, referring to the junta. "I only acted on their behalf."
Most of those charged had no obvious history of activism. All were charged after this past Saturday's rally protesting a vote in parliament that effectively postponed general elections to February 2019.
The complaints came less than two weeks after the junta filed similar charges against 39 people for either organizing or joining a similar rally on Jan. 27.
Asked why the junta is coming down hard on the recent protests, with mass charges filed against both leaders and supporters, the colonel said the regime is merely following the law.
"The prime minister has spoken about this many times," Burin said. "We are proceeding in accordance with the law."
All 43 face up a year in jail if convicted. Additionally, seven activists were also identified as organizers of the Saturday protest and charged with sedition – a more serious offense that carries a maximum penalty of seven years in prison.
One of the activists named in the complaints, Piyarat Chongthep, said he believes the legal crackdown will not discourage people from joining future protests.
"I have always insisted that more people will join, and it is as I predicted," Piyarat said. "On Feb. 10, many people in our community came out. Some, such as Khun Daranee, who served time in prison and hasn't taken up activism since, also came out. It means people are not afraid."
But Daranee said she was only in the area to eat at McDonald's with her friends, not to join any protest. She accused the junta of bullying her.
"Many protesters in front of the stage told me they are surprised why I didn't join, but I ended up being targeted," Daranee said.