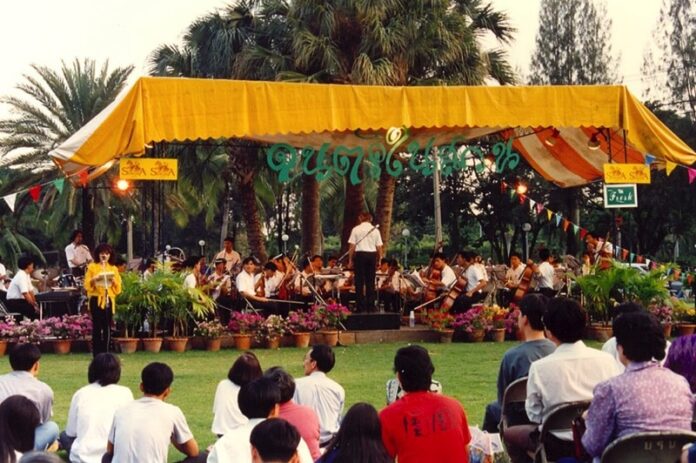 By Panisa Aemocha
BANGKOK — Concert halls aren't the only setting for an orchestra performance. A park will do too.
To mark a quarter of a century since it was formed, the Royal Bangkok Symphony Orchestra will treat attendees to the last series of seasonal concerts at a downtown park in the capital.
The concerts – which begin every December until March – will wrap up its season through three performances, with works of classical music by the likes of Gioachino Rossini, Johann Strauss II and soulful ballads such as Paul Anka's "My Way" among others.
Wanchai Yan-Ubol, director of the Royal Bangkok Symphony Orchestra, said the idea emerged 25 years ago to get musicians out of the hall by performing in a new setting.
"Bangkok is a big city with few places to relax," Wanchai said. "Many parks were on the list, such as Suan Luang Rama IX or Chatuchak Park, but none were as perfect or suitable as Lumphini Park."
He said there's a lot of public interest for the event.
"This event no longer belongs to us … anymore. The fans just truly own it," Wanchai said.
On Sunday, take your family or friends to the park and camp out for a picnic to the sound of the live orchestra.
Those who aren't classical music fans can need not dress formally and sit in an uncomfortable hall – where munching on snacks is frowned upon – while those who love it can enjoy the concert in a different setting.
For those who have never been to a classical music concert, Wanchai had some advice.
"Stop thinking that classical music is solely for the upper class or the elite," he said. "Music is for everyone."
The free concerts start at 5:30pm on Sundays through March 4 at the Sala Bhirom Bhakdi in Lumphini Park. Sunday's weather is expected to be sunny and warm. Get there early for a good spot and don't forget to pack snacks. Alcohol is prohibited.