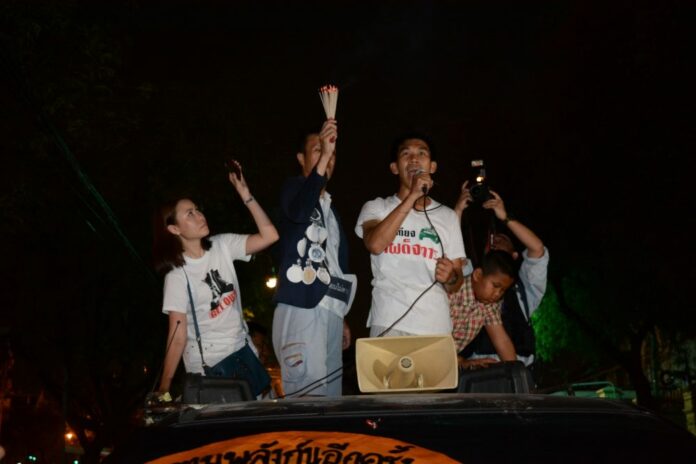 BANGKOK — A weekly campaign to call for an election within this year will resume after a month-long break, one of the organizers said Monday.
Although the military government has urged the activists to stay off the streets, Nuttaa "Bow" Mahattana said the protest will take place at Thammasat University on Saturday while an overnight rally will be held at an undisclosed location two weeks from now.
She said her group has learned lessons in avoiding clashes with the authorities after their last activity – a rally to the army headquarters on March 24 – saw scuffles between protesters and police who attempted to block their way.
"We will avoid conflict. Last time, it seemed there were clashes because … security officials put up barricades in our path, even though we already informed them of our marching route," said Nuttaa, who's facing two separate court trials for her activism. "We try to keep our tone in a constructive and peaceful manner."
Saturday's rally will feature a mock "No-Confidence Session" against the current government and a market, she said.
The protesters also plan to camp overnight May 19 to May 22 to mark the fourth anniversary of the 2014 coup. Nuttaa said the location would be announced at a later time.
Street protests remain outlawed by the junta. Nuttaa and other activists have been charged for their persistent defiance of the ban.
Government officials have publicly urged the protesters to call off their rallies. A junta spokesman said Monday the military is closely monitoring the anti-junta activities.
"Staging a rally and causing a chaotic situation or inciting unrest isn't appropriate for the current situation," Piyapong Klinpan told reporters.