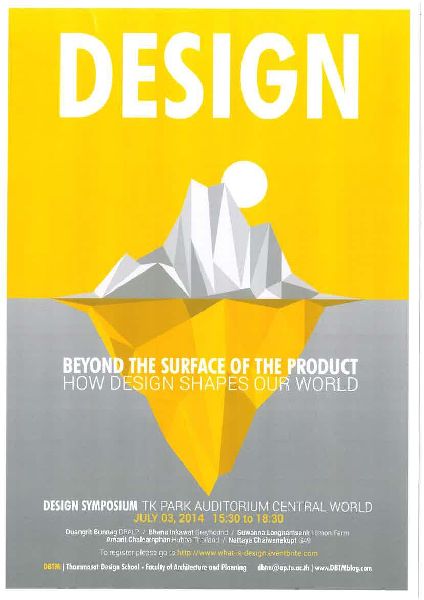 DBTM is excited to announce its first design symposium, titled: "What is Design? Beyond the surface of the product or how design shapes the world."
Design has a new role to play in addressing the world's ever more complex challenges and is moving from a largely "additive" to a "transformative" one. The essence of the design process is becoming an increasingly important component, not only of the classical design arts, but spreading into technology, business and social sectors. We have gathered a panel of highly distinguished speakers from a wide variety of backgrounds to discuss how the various aspects of design impact their business, their life and their outlook on the future of design.
The symposium will take place on July 3rd, 2014 from 15:30-18:30 at TK Park Auditorium in Central World, Bangkok.
Admission is free but due to limited seating availability we would like to ask you to register at www.what-is-design.eventbrite.com
Speakers
Duangrit Bunnag, DBALP
Bhanu Inkawat, Greyhound
Suwanna Langnamsank, Lemon Farm
Amarit Chalearnphan, Hubba Thailand
Nattaya Chaiwanakupt, G49
We're looking forward to see you there!