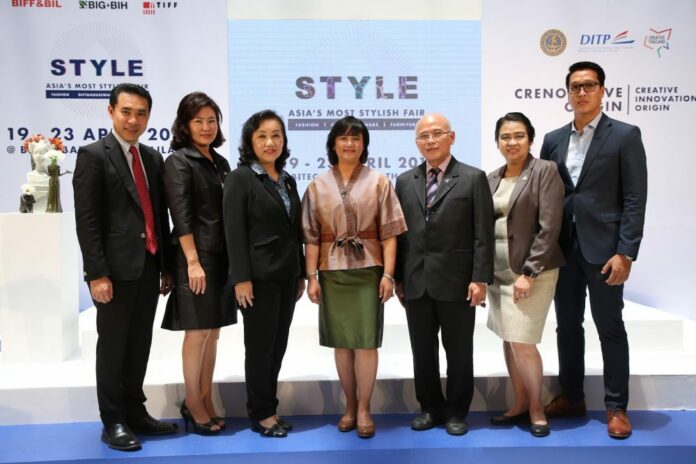 DITP to host the second edition of "STYLE APRIL 2018" to be the region's most comprehensive lifestyle trade fair in response to local and international demand for lifestyle products.
The Department of International Trade Promotion (DITP), Ministry of Commerce, is hosting the second edition of STYLE APRIL 2018 to follow up on the phenomenal success of the mega-fair that combines BIFF&BIL, BIG+BIH and TIFF in one between April 19-23, 2018, at BITEC Bangna. Spanning across the 47,000sqm exhibition space, the fair is hosted to align with the Government's Creative Economy agenda and SMEs promotion with Creative and Design Zone. STYLE APRIL 2018 also introduces The New Faces campaign to boost business opportunity for new Thai entrepreneurs in the global market.
Mrs. Chantira Jimreivat Vivatrat, Director-General of The Department of International Trade Promotion – DITP, who oversees that Creative Economy initiative of the Ministry of Commerce, reveals that STYLE APRIL 2018 is the follow up on its inaugural edition in October 2017 that combined BIFF&BIL (Bangkok International Fashion Fair and Bangkok International Leather Fair), BIG+BIH (Bangkok International Gift Fair and Bangkok International Houseware Fair) and TIFF (Thailand International Furniture Fair) in one. Last year, the fair brought together over 2,000 booths of Thai and international exhibitors and welcomed more than 52,000 fair goers from 80 countries around the world, creating total sales value of 3,600 million bath during the fair.
"For STYLE APRIL 2018, DITP is planning to offer even more diverse kinds of lifestyle products in one trade fair. The featured products are divided into three categories:fashion (clothing and accessories, footwear, bags, leather goods, sports equipment, travel and recreational products), gift & houseware (gifts, home decorative items, houseware, office stationery, toys, wellness) and furniture. STYLE APRIL 2018 also highlights up-and-coming lifestyle product segments such as 60+, Moms and Kids, Pet products, One Tambon One Product (OTOP) and new showcases such as functional textile, Thai characters as well as wellness & medical service. STYLE APRIL 2018 is slated to happen between April 19-23, 2018 at BITEC Bangna.
"In terms of exhibitors, we expect to welcome local and international entrepreneurs and the fair has been promoted throughout DITP's offices in 50 countries around the world. The department also organized a roadshow in China to attract both buyers and importers in lifestyle and fashion industry to participate. We aim to attract local and foreign entrepreneurs from Japan, South Korea, Taiwan, China, CLMV (Cambodia, Laos, Myanmar and Vietnam), Ghana and others. We expect to welcome more than 60,000 fairgoers from all over the world, especially from Taiwan, China, Japan, USA, Hong Kong, Germany, Australia, India and ASEAN," said Mrs. Chantira.
The international lifestyle product trade show STYLE APRIL 2018 is presented under the concept "Crenovative Origin" that stems from the stories of "Creative", "Innovation" and "Original" Thai flair, to cater to the modern lifestyle market trend that calls for modern but original Asian-style products as well as the much more diverse needs of consumers.
STYLE APRIL 2018 is also providing Business Matching service to build business network as well as various exhibitions. Highlight includes the first Creative and Design Zone that features Creative Lab that renders itself as an experimental space for Thai entrepreneurs, especially SMEs and creative makers, to help them exchange and foster new ideas to add value to their products and services to appeal to modern buyers from all over the world. Innovation & Design Showcase offers a display space that highlights innovative lifestyle products with excellent designs and distinctive works by Thai designers and start-ups to explore market expansion.
There is also Design Society booth that gives consultancy to designers and entrepreneurs to help them develop their Thai-style products or service for the international markets. The fair also includes The New Face initiative that supports entrepreneurs with creative and innovative lifestyle products through an extensive display. The Pattern Creator is a platform to showcase Thai garment prototypes by Thai creators that are penetrating the international markets. The Local to Global exhibition showcases indigenous products with creative designs that are carefully selected by Office of Commercial Affairs in Chiang Mai, Lampang, Lampoon and Bueng Kan. STYLE APRIL 2018 also features health and wellness activities and businesses such as massage and physiotherapy at Thailand Wellness Service Pavilion by Department of Business Development. Another highlight is innovative spa products from rice and Thai industrial crops by Department of Foreign Trade.
"The department believes that STYLE APRIL 2018 can increase the business opportunities for Thai lifestyle product entrepreneurs and continually expand related clientele base, especially SMEs and emerging entrepreneurs in The New Faces project. We hope to create a platform to showcase their products and innovation to new groups of buyers that include retailers, concept stores, property projects, buying agents from both local and international shopping malls as well as those in the global fashion and lifestyle scene. We really believe that STYLE APRIL 2018 will launch Thai products in the global markets," DITP's director-general said.
STYLE APRIL 2018, Asia's Most Stylish Fair will be held from April 19-23, 2018 (trade days from April 19-21 from 10.00 am to 6.00 pm, and public days on April 22-23 from 10.00 am to 9.00pm) at BITEC Bangna, Bangkok. For more information, please visit www.stylebangkokfair.com or DITP Call Center 1169.