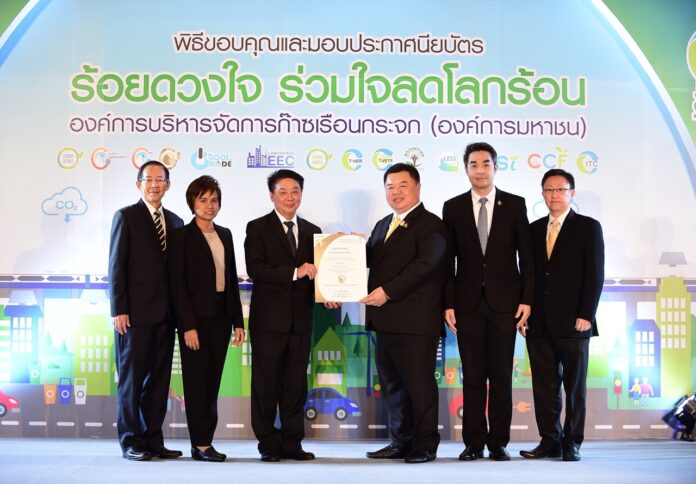 C
haroen Pokphand Foods PCL (CP Foods) becomes Thailand's biggest contributor for carbon footprint labelling scheme as 623 products are certified by Thailand Greenhouse Gas Management Organization (TGO) in this year, reflecting the company's strong intention to achieve sustainable growth.
The certified products includes 610 livestock feeds, covering swine feeds, poultry feeds, cattle feeds and others, as well as 12 duck products, which are also the first-ever group of duck products in Thailand to receive the labels. Of the total number, seven of them are certified Carbon Footprint Reduction Labels. TGO also renewed carbon footprint label for CP Foods' fresh chicken product.
Since 2009, CP Foods has a total of 770 products carbon footprint labelled.
Mr. Rewat Hathaisttayapong, Executive Vice President of CP Foods, said Carbon Footprint assessment is a part of CP Foods Green Revenue project to boost its income from environmental friendly products (Green Products) to meet the rising consumer demand for sustainable foods.
In 2018, CP Foods' Green Revenue was at 17.76 billion Baht, accounted for 10% of the company's revenue in Thailand.
"The carbon footprint scheme enables the company to gain a better understanding of carbon emission throughout product lifecycle. Subsequently, it will lead to better utilization of raw materials, energy and natural resources as well as mitigating climate change," Mr. Rewat said.
Besides carbon footprint labeling scheme, CP Foods has set up a goal to reduce greenhouse gas emissions. Several projects, such as CPF Solar Rooftop Project, Electricity Generation from Biogas Project and Carbon Footprint Project, have been initiated to help the company to increase proportion of the renewable energy used.
Ms. Kularb Kimsri, Vice President of Global Standard System Centre, said the company has made proactive measures against climate change. Therefore, it has been collaborated with TGO in carbon footprint project since 2009. It aims to reduce greenhouse gas emission of the company's products, from acquisition of raw materials to end of life disposal.
"TGO's Carbon Footprint labels provides consumers information on GHG emissions throughout product lifecycle, giving them an opportunity to take part in climate change management. On the business aspect, the label can improve competitiveness and image of Thai products in global market," she explained.
Ms. Kularb added that the Carbon Footprint Reduction labels demonstrate an achievement in reducing product's carbon footprint as required by the organization, ensuring consumers that they are using eco-friendly products.
Besides carbon footprints labels, CP Foods has worked with the TGO in supporting the LESS scheme on the continued basis. This year, 25 facilities of CP Foods have won the certification from the ecological protection scheme. Together, these facilities stored over 3,052 tons of carbon dioxide equivalents in 2018.