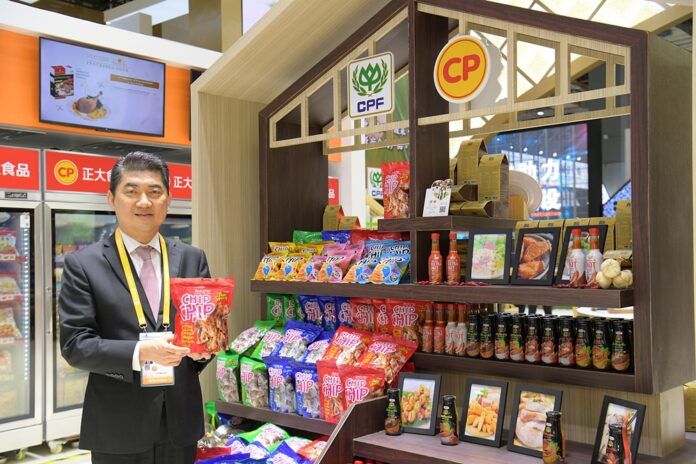 CPF and CP Group bring the parade of food products that highlight their "Kitchen of the World" mission to China International Import Expo 2019 (CIIE 2019), the world's largest import expo. Xi Jinping, President of the People's Republic of China, presided over the grandiose opening ceremony at the National Exhibition and Convention Center in Shanghai.
Mr. Prasit Boondoungprasert, Chief Executive Officer of Charoen Pokphand Foods PLC (CPF), said that CPF and sister companies under Charoen Pokphand Group are exhibiting fresh and ready-to-eat food products at CP Group's booth, to reinforce their capability "Kitchen of the World". The world-class group boasts advanced, integrated and solid production bases that encompass 5 continents.
CPF's products on show range from fresh to ready-to-eat items, covering the products which have been exported to China and the products which will potentially win Chinese consumers' hearts. They are exhibited under the "Put Our Heart into Food" concept, to reinforce the brand of an innovative Thai food producer. CPF takes pride in the integrated production system, to deliver safe, high-quality and tasty products through advanced technology. CPF also shows progress in terms of food innovations that address the preferences of consumers at all ages along with responsibility for society and the environment.
"CIIE 2019 provides us a good opportunity to showcase CPF's food innovations that can answer the needs of new-generation Chinese consumers who possess high-purchasing power and tend to increasingly demand more imports. These consumers have confidence in Thai foods, thanks to the quality. We expect that the participation in the expo will help expand our business in China," he said.
CPF has put its emphasis on innovations, supported by the CPF RD Center at Wang Noi District, Ayutthaya province. The center sits on vast world-class food technologies, to deliver nutritious food and others that meet Chinese consumers' demand for better health.
CPF's product highlights at the expo are both fresh and processed items that show business potential in the Chinese market. These products, supplied by the production bases in Thailand, Vietnam and Europe, include Benja Chicken, U Farm-branded premium chicken meat that derives from 100% natural production process that includes fed by brown rice and zero use of antibiotics: and ready meals jointly created by CPF and leading chefs such as "Moshio Chicken breast Steak".
Others include CP Selection cage-free chicken eggs from hens that roam freely in closed buildings accordingly to animal welfare standards; fresher-than-usual eggs; premium fresh shrimps; CP Kurobuta pork meat; Kitchen Joy-branded ready meals which are successful in the Scandinavian market; PURE-branded ready-to-eat food products from Belgium that boast shelf life and premium taste through microwave technology, zero additives, zero preservatives and degradable packaging; crispy fish products from Vietnam; and Jerhigh-branded dog food.
At CIIE 2019, CPF also emphasizes added values in terms of economic, social and environmental dimensions. It will present solutions to reduce greenhouse gases, increase clean energy ratio, adopt environmental-friendly packaging, reduce plastic usage, manage wastes, as well as honor human rights principles and labor management best practices. These are expected to help win confidence among Chinese consumers in CPF food products in a sustainable manner.
CIIE 2019 has been hosted for 2nd year. It was pushed by President Xi Jinping, to promote bilateral trade and economic cooperation with all countries across the globe as well as help revive the global economy.
Participating in the expo are over 2,800 companies from 130 countries, who showcase products in 7 focused sectors: sci-tech life, automobile, equipment, medical equipment & health care products, quality life, trade in services as well as food and agriculture products. With 240,000 square meters in exhibition areas, the expo expects to attract more than 150,000 visitors and generate trade worth as much as US$10 trillion.