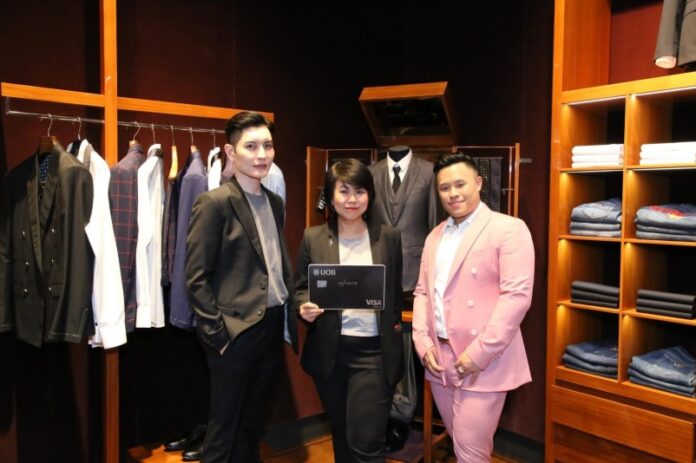 UOB (Thai) treats UOB VISA INFINITE cardholders to an exclusive privilege of high-end custom-made suit making for gentlemen with the exceptional sartorial excellence of Dolce&Gabbana.
The sensational collaboration, led by Ms. Suporntip Pongsachamnankit, Head of Credit Card Business UOB (Thai), Mr. Manathes Annawat Senior Deputy Director of The Emporium and The Emquartier and Dolce&Gabbana, allowed VIP clients to experience the bespoke suit making experience by talented Italian tailors jetted exclusively to this event. Guests were able to choose colours, buttons and fabrics from a selection of more than a hundred or let the design team of Dolce&Gabbana create meticulous suits that meet the guests' personal style. The event saw celebrities such as Kraipitch Theeratwong, Titipong Lorprasert, Thanawat Jiratseth, Akkararat Wannarat and fashion editor Kampol Likitkanchanakul in attendance at Dolce&Gabbana at The Emquartier.
Ms. Suporntip Pongsachamnankit, Head of Credit Card Business UOB (Thai), enthused that, "UOB (Thai) and UOB Visa Infinite are determined to offer more than just financial services but also exclusive experiences that money cannot buy. We invited UOB VISA INFINITE cardholders to experience the exceptional art of bespoke suit making with world-renowned brand like Dolce&Gabbana In this campaign, UOB Visa Infinite offers double points for purchase from 100,000 baht to 200,000, plus 10,000-baht gift voucher to spend at the Dolce&Gabbana Boutique."
This is another exclusive experience carefully crafted by UOB for UOB Visa Infinite cardholders to cater to their upscale lifestyle and unique sophistication.