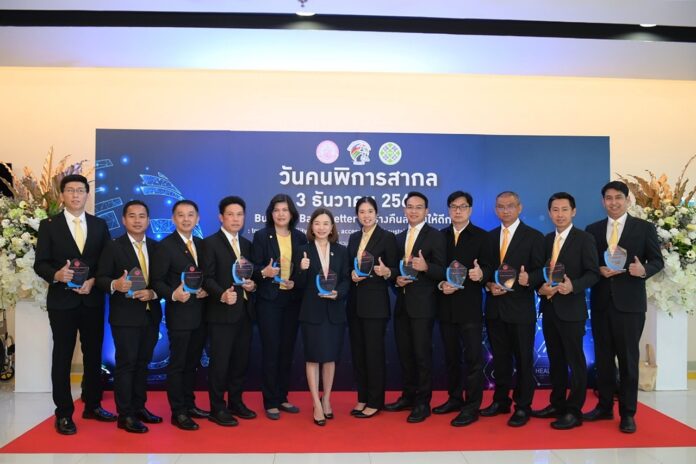 The Ministry of Social Development and Human Security granted the Outstanding Disability Employer 2020 plaque to Charoen Pokphand Foods PLC (CP Foods) and its twelves subsidiaries as an acknowledgement for the company's contributions to the disability community.
CP Foods' representatives led by Ms. Pimonrat Reephattanavijitkul, Executive Vice-President for Human Resources, received the prestigious recognitions from Social Development and Human Security Minister Juti Krairiksh, making it the fourth consecutive year.
Ms. Pimonrat noted that CP Foods fully back the government's efforts to promote a quality of life for disabled people. Therefore, the company is providing them access to equal job opportunity and stable income. It is also giving an opportunity for them to be self-reliance, being able to take care of their family and the community that they are living in.
"CP Foods has established Diversity and Inclusion Policy Statement to synergize the work force and bring together the rich mix of people with different gender, generation, culture, backgrounds, experience, perspective and practices, creating a driving force for sustainable growth of its business as well as the society," she said.
Currently, CP Foods has 786 people with disabilities' working with the company in three types of employment. First of all, 183 disabled persons are working in its operations nationwide. Secondly, 584 disabled people are hired by the company to work on a community program in their own hometown, supporting various activities in local schools, temples, local administrative offices and etc. Lastly, the company provides 19 of them concession to sell products within the company's facilities.
She added that hiring the people with disabilities allow them to be self-dependent. As a result, they have become valuable members of both company and society that they work with and being able to bring out the best potential within them. This effort is also in line with Sustainable Development Goal 8 to promote decent work and economic growth.