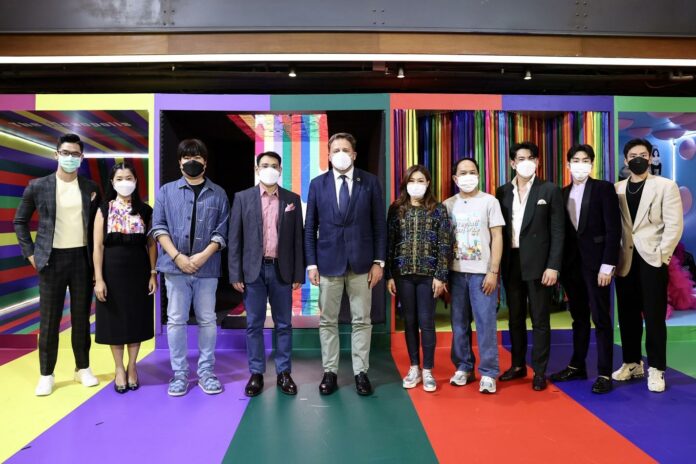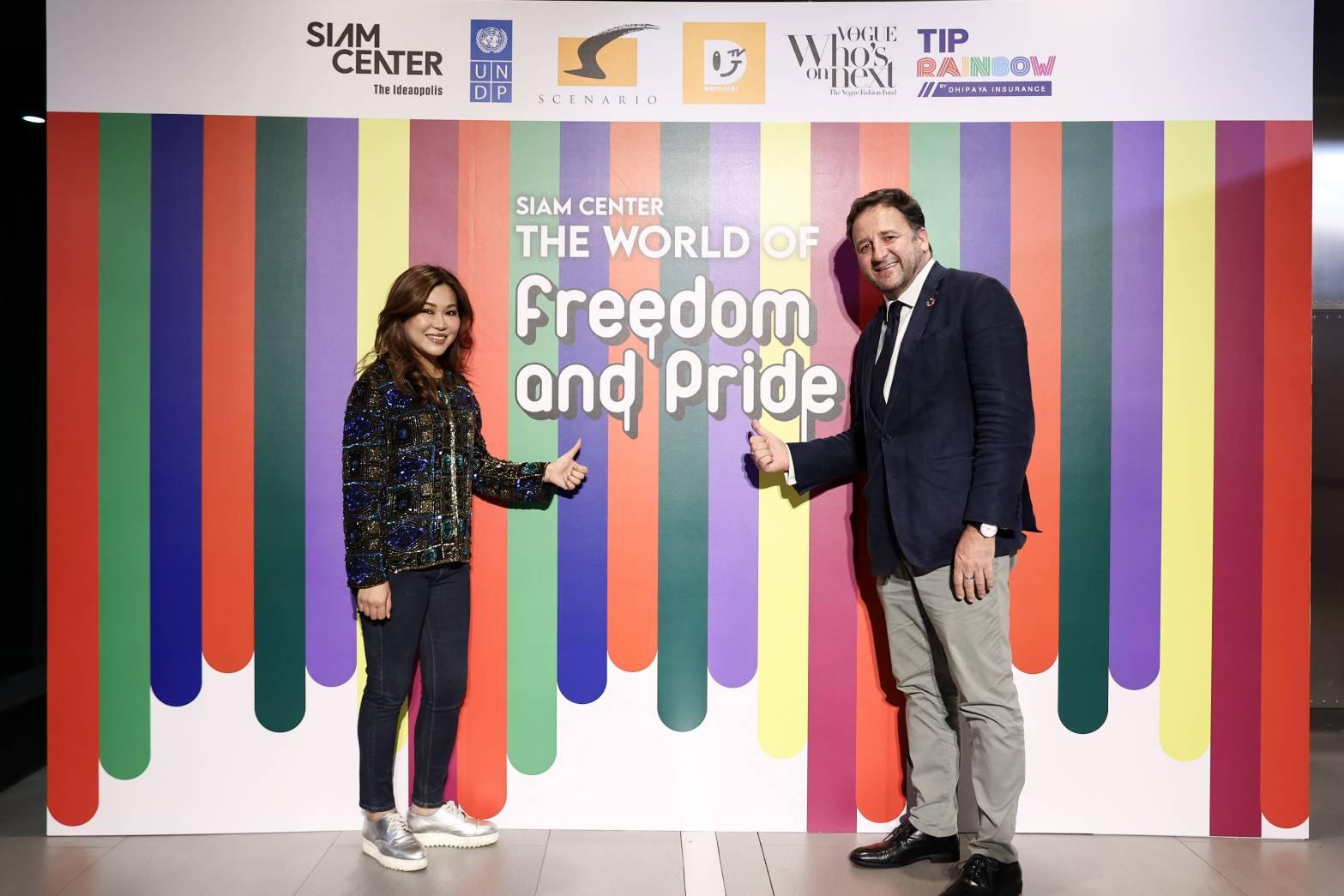 Siam Center The Ideopolis is the epicenter of aesthetics – from fashion, art, technology and lifestyle that will spark creativity and inspiration for all. Siam Center is a brainchild of Siam Piwat Co., Ltd. that embodies diversity, equality, and inclusion as the core value. Siam Center teams up with the United Nations Development Programme (UNDP), a UN's agency that promotes diversity, equality & inclusion of all marginalized groups. This June, the world comes together to celebrate Pride Month – emphasizing the freedom and pride of LGBTQ communities. Siam Center is hosting "SIAM CENTER THE WORLD OF FREEDOM & PRIDE," an amplification of its commitment to be a DiversCity Building (Diversity + City) – to support diversity, equality and inclusion.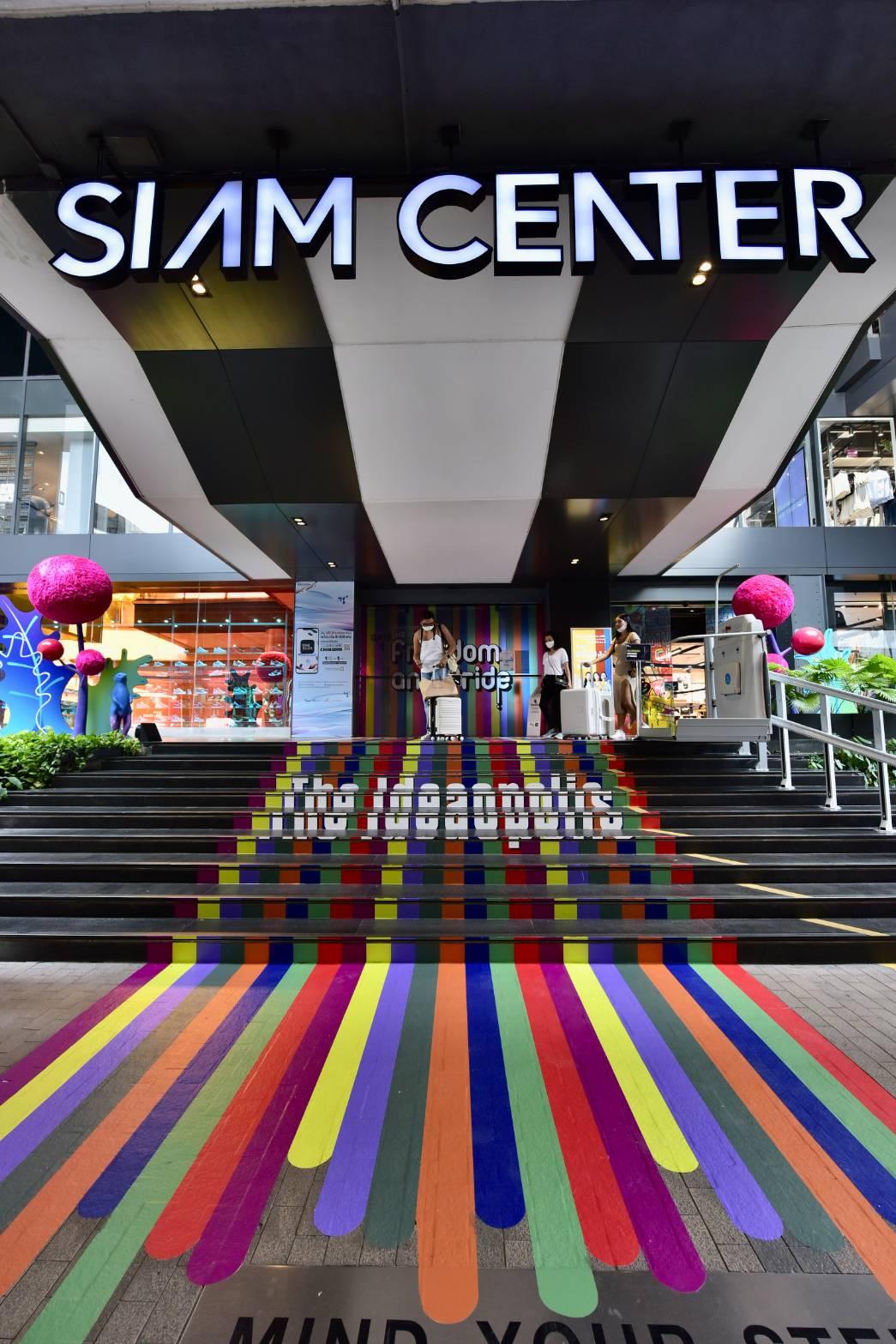 From 7 June to 3 July 2022, "SIAM CENTER THE WORLD OF FREEDOM & PRIDE" is delivered to a series of activities. Starting from Rainbow Vibes, the multi-color decorations that reflect the diverse spectrums of people in the society that can live in harmony, regardless of gender, age or differences. Freedom Space is an instagrammable showcase of multi-dimensional diversity, an ideal place to check-in, take cool photos and express support to diversity and inclusion by sharing through social media. Part of the proceeds from the event will be given to UNDP to support the organization's diversity and inclusion activities. Plus, special activities from TIP Rainbow by TIPINSURE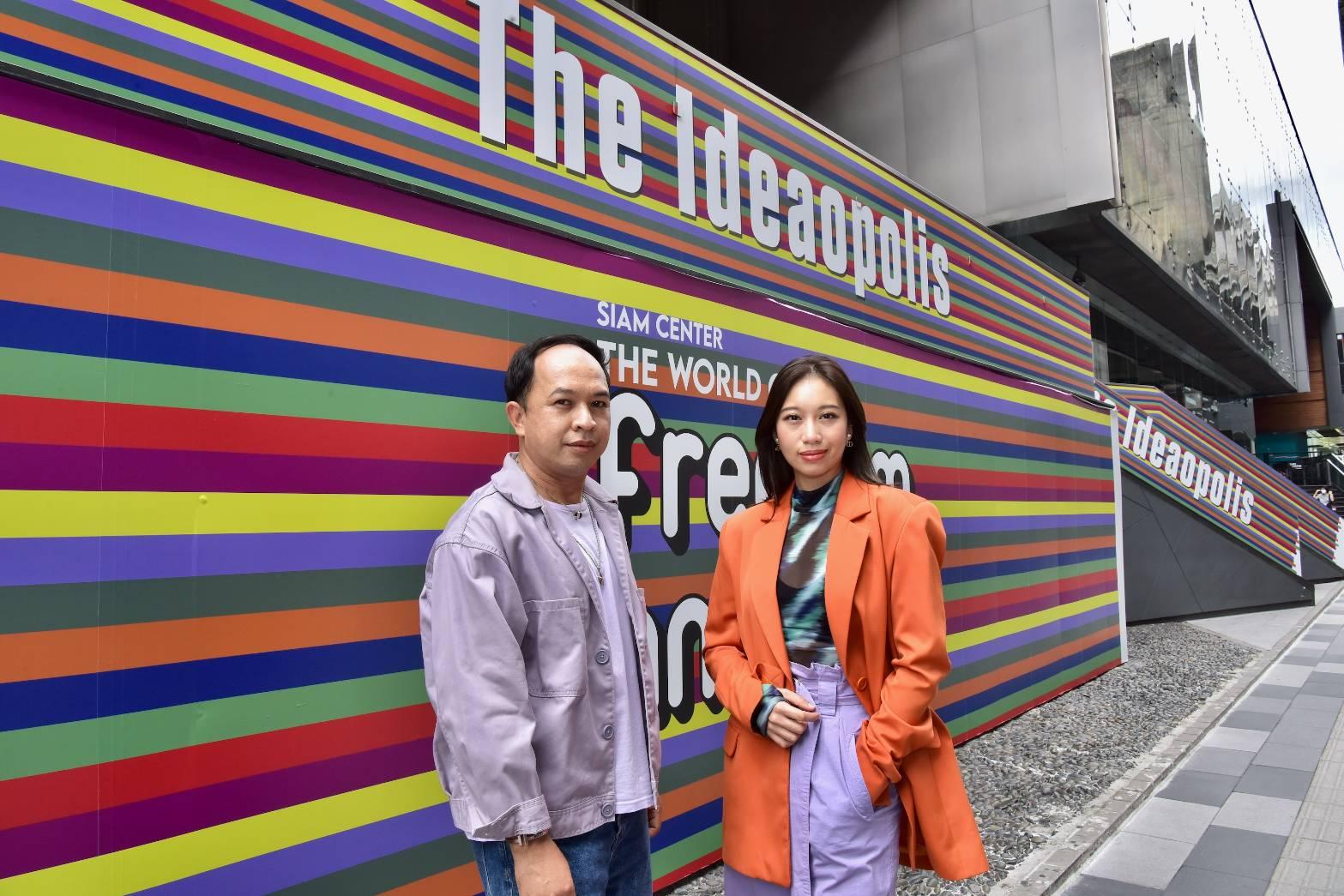 THE IDEAOPOLIS; ART, FASHION, MUSIC, LIFESTYLE 
Discover PRIDE items from leading brands. Have fun at the photo booths and enjoy activities such as drag shows, cover dance shows and street music at Atrium 1, G Floor, from 15 June  – 3 July 2022.  
Pride Pop Up

offers Pride-themed items from Absolute Siam and

 

LOFT such as rainbow CAREBEAR, the 40th Anniversary edition at IDEA Avenue, G Floor.  

The celebration highlights Siam Center Ideaopolis "Freedom and Pride talk." Meet renowned LQBTQ personas and respected though leader including Phoomwarin Sudhankitara, the famous transgender. Sensational Youtuber doctors from the channel "Khun Mor Ka Cheed Ya Noo Noi"  – Doctor Sira 'Peirre' Korpaisarn and Doctor Tanadol 'Aob' Wongsaardsakul will also join the stage. Also presence are Dr. Jiraporn Arunakul, the adolescence pediatrician at Ramathibodi Hospital or 'Mor Oh' from the respected Facebook page "Lieng Look Nok Baan" and moderator Khemarat 'DJ Oung' Soonthornnont. The talk will take place at Atrium 1, G Floor on 15 June 2022 from 16.00 – 17.30 hrs. 

Enjoy the shopping spree at rainbow-themed

Weekend Market Place,

from 24-26 June 2022. 
Show your support in diversity and celebrate Pride month with

DOMUNDI x Siam Center The Secret Theatre.

Immerse in fan favorite scenes from five most popular Y-series from Doo Mun Di and Mun Dee Work at the mini theatre starring Cee

and Nunew, Mag and Nat,  Tutor and Yim, Jimmy and Tommy as well as  Net and James. Fans can express a written support to diversity and inclusion and get exclusive postcards on 1 Floor, from 15 June – 3 July 2022. Admission is free.  

See the fashion design showcase from young generation designer from

Vogue Who's On Next, The Vogue Fashion Fund 2022

initiated by Vogue Thailand. The contest is set to create business opportunities, help them thrive in the fashion industry and establish own fashion boutique at Siam Center on the 1 Floor.
Visitors can also enjoy special a promotion, for every THB1,500 spent at Siam Center, get free PRIDE Oil, an exclusive blend of 'Absolute Siam Set Free' scent that combines aromatic peppermint and eucalyptus essential oils from Patom. (Limit to 1 item/ person/ day. One person can receive only one item for the whole campaign. Only 50 available/ day and total 950 items. From 15 June 2022 – 3 July 2022 or until stock lasts.)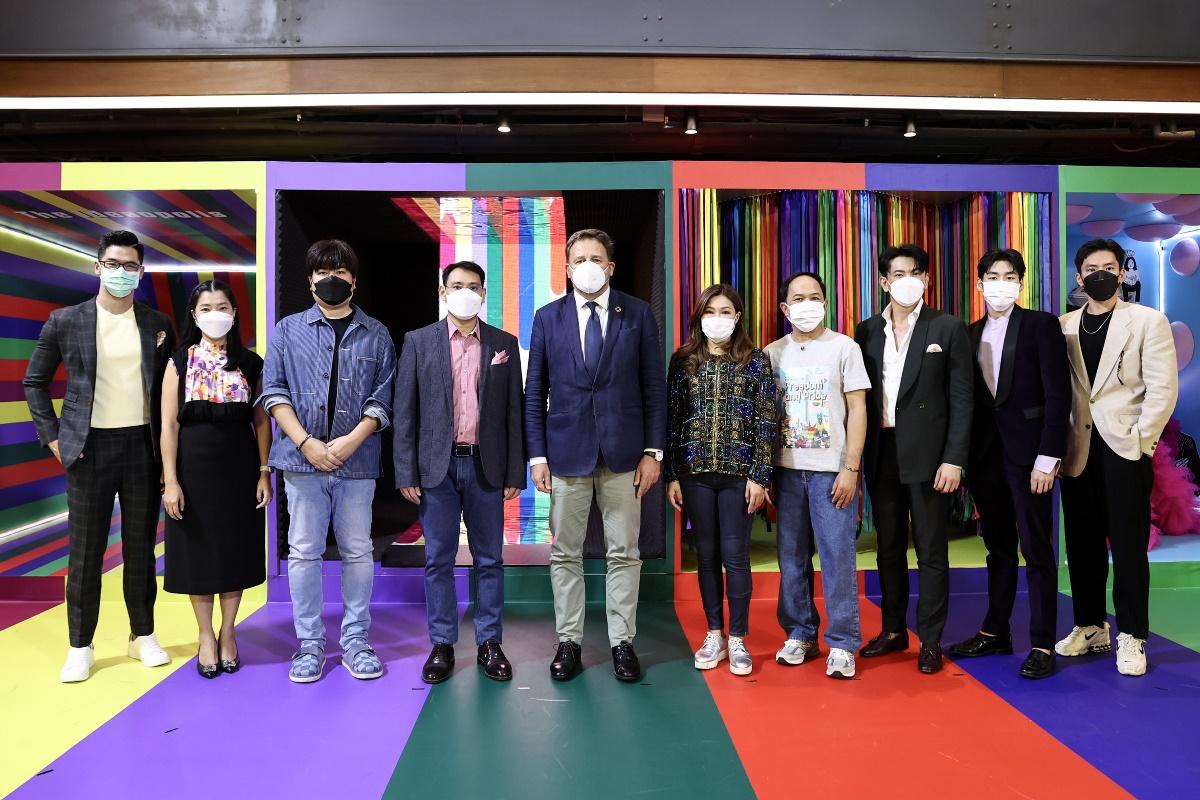 In addition, restaurants and cafes at Siam Center join the PRIDE month celebration with pride-themed menus. BAKE WORKS presents Strawberry Rhubarb Custard Cream Apple Pie  and Cherry Mocktail Cheese Tart; Audrey Café serves Audrey on my Mind and Kelly in Love beverage; BAAN YING makes shaved ice topped with LOD CHONG SANGKAYA, BUA LOY AND TARO SAUCE ,LYCHEE AND PEPO, MANGO CREAM Or MANGO MILK, WATERMELON AND JELLY; Minimelts Thailand serves Rainbow Signature Ice Cream; Molly Ally serves colorful ice cream Rosie : Cranberry Rose, Juliet : Raspberry Dream Cheese, Grinch : Kale Passion fruit, Jack : Roasted Pumpkin & Hazelnut Praline; Mom&Sis The Smoothie Café blends a rainbow smoothies Acai The Rainbow; On the Table brews varieties of Summer Boost coffee like  Banoffee Frappucino, Iced Yuzu Americano, Iced Lychee Americano, Iced Coff Tea; Palsaik Korean BBQ offers eight color pork bbq; Pleased Yogurt Bar  serves yogurt ice cream Spoonful of Surprise, Baking Blueberry Cheese Pie, Raspberry Choc Bombard  and more. 
Celebrates Pride month and be a part to advocate diversity and inclusion at SIAM CENTER THE WORLD OF FREEDOM & PRIDE, all through June 2022 at Siam Center the Ideopolis. For more information 
www.facebook.com/SiamCenter และ https://www.facebook.com/UNDPThailand/