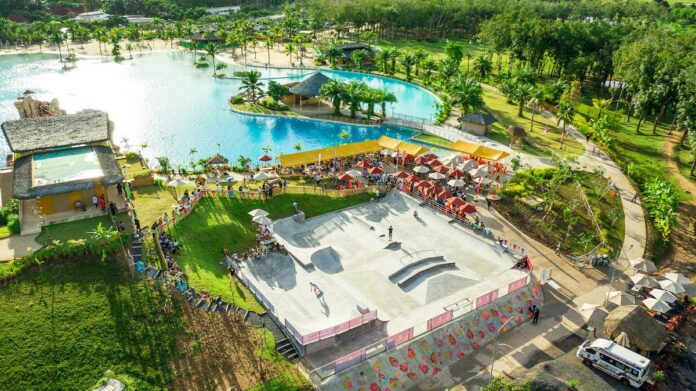 Blue Tree Phuket offers team-building services to B2B business groups, showcasing its space potential and expertise in developing individuals within organizations
Blue Tree Phuket, a comprehensive entertainment complex with over 55.35 acres of green space and well-equipped facilities, is expanding its services to target B2B business groups and provide space for team-building services.
Team building is a strategic organizational development technique aimed at enhancing employee performance. With a team of expert professionals, Blue Tree Phuket can design suitable programs and activities to enhance skills, foster relationships, and maximize the benefits of the complex's versatile spaces.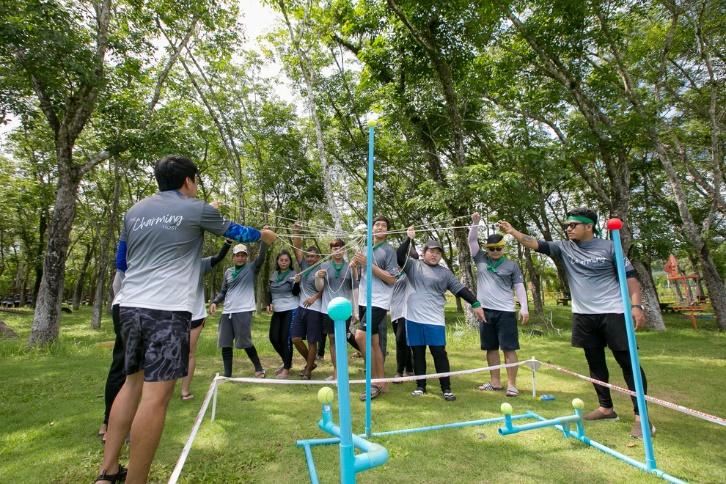 The venue can accommodate up to 500 participants, offering a unique experience in developing personnel within organizations, providing both enjoyment and a distinctive edge.
Mr. Bo Johan Wallen, General Manager of Blue Tree Phuket, said, "Aside from being a comprehensive entertainment center, Blue Tree Phuket stands out for its capacity to offer a new and distinctive team-building service. With our professional team, we offer various tailor-made programs that effectively develop individuals within each organization. Our spaces are well-equipped, allowing us to utilize their full potential. We prioritize safety while creating enjoyable activities that provide a unique experience."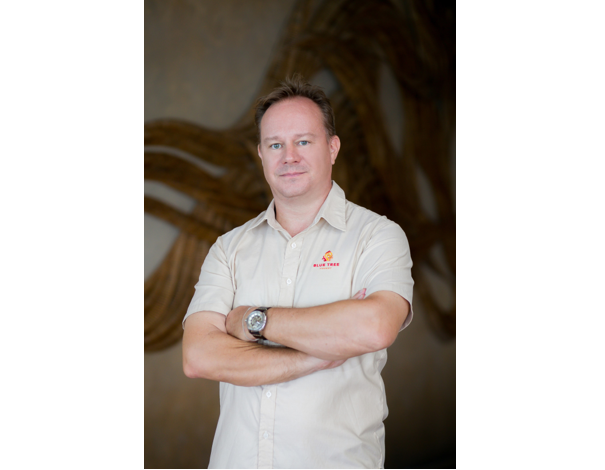 "We have now expanded our customer base to include both small and large businesses, such as hotels, companies, and various organizations. We aim to promote and support entrepreneurs in search of suitable venues and expert teams to effectively develop their organizations. Starting from the basics, we focus on improving relationships within the organization, fostering teamwork, problem-solving, and cultivating a positive work attitude with strong personnel, the organization will grow in quality," he added. 
In terms of the complex's space potential, Blue Tree Phuket covers more than 55.35 acres and is surrounded by greenery, recreational areas, and a stunning blue Crystal Lagoon spanning 17,000 square meters. It serves as a central landmark at Blue Tree, allowing for diverse event possibilities.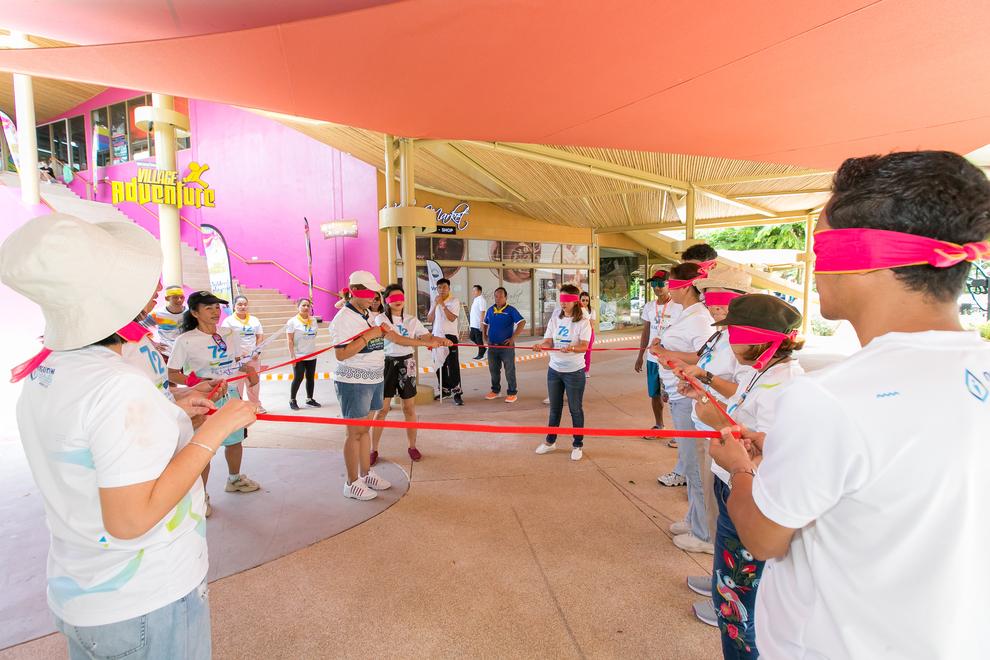 An important aspect of team building is Blue Tree's team of experts who can create various programs suitable for developing individuals from different professions. For example, the Ultimate Survivor Extreme activity is designed to break behavioral barriers. The professional team at Blue Tree Sports and Entertainment has over 20 years of experience in serving customers. 
The team also includes sports coaches specializing in various fields such as triathlon, swimming, Muay Thai, football, cricket, and more. They collaborate to design programs that enhance personal development and teamwork while providing enjoyable and creative training experiences.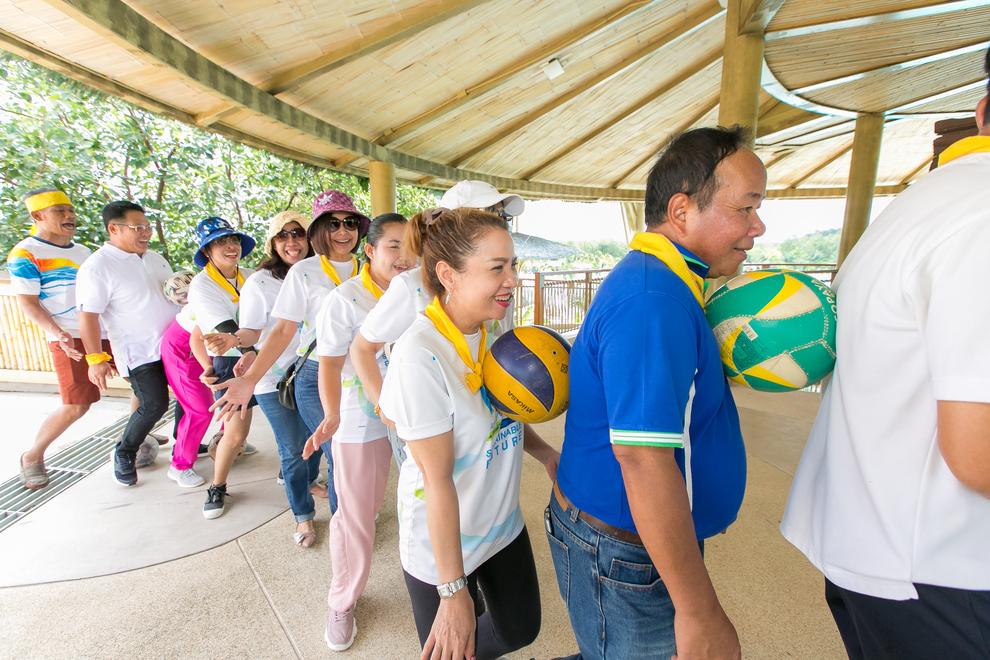 "Based on our experience in successfully providing more than 50 team-building events in the past two years, we are confident in our readiness in terms of venue and expert team to deliver efficient organizational development experiences. Additionally, any organization can participate in the planning and development of games and various activities in collaboration with our team at Blue Tree Phuket, catering to specific needs and contributing creative ideas. There are no limitations in our versatile spaces," Mr. Johan Wallen added.
"As part of our marketing strategy, we are currently offering a year-end promotion for hotels to utilize our team- building services at Blue Tree Phuket. The price is reduced to 800 baht per person (from 1,500 baht) from today until October 31, 2023," he concluded.
For more information, please call 085-080-0065 or visit www.bluetree.fun/
#บลูทรี #ภูเก็ต #บลูทรีภูเก็ต #BlueTree #Phuket #BlueTreePhuket #Entertainmenthub #ThrillandChill #DayandNight  #TeamBuilding #ทีมสัมพันธ์ #พัฒนาองค์กร