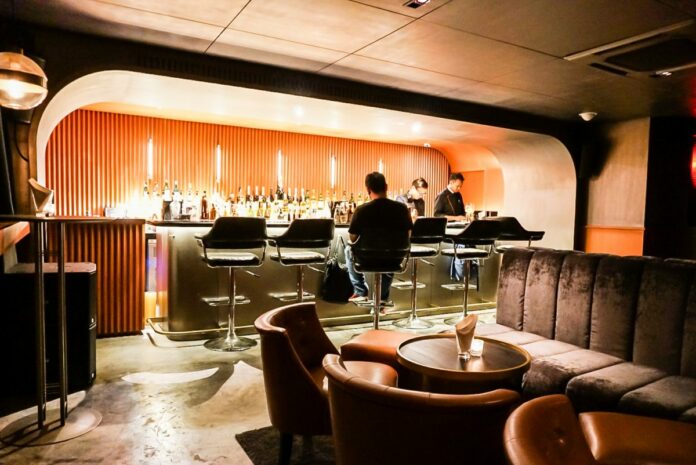 BANGKOK — Swipe aside the curtain and duck inside. Once positioned, take three pictures of yourself. The quest has begun.
To enter new cocktail speakeasy #FindthePhotoBooth is not easy. Visitors must find a photo booth down the hall of a sports bar. Inside the minimal booth, they need to figure out how to unlock access to enter the secret bar.
"Please do not tell people how to get in. We like to torture our customers," bar principal Chulapat "Jun" Charoenloet said cheerfully by phone prior to our meet-up. We decided to keep this write-up spoiler-free.
#FindthePhotoBooth, which opened late last month, is the brainchild of four partners – Hidetsugu Ueno, Colin Chia, Nick Wu and Ronnaporn "Nueng" Kanivichaporn. The bartender supergroup is known as the team behind #FindtheLockerRoom, a bar hidden behind rows of locker cabinets.
While its sibling focused on drinks under the concept of past, present and future, #FindthePhotoBooth instead turns to classic drinks and "twists with Thai flavors."
Find the drink menu inside a photo album (of course). Ten classic drinks are found on the left; 10 creative twists are listed at right.
Twenty types of drinks are available with most names previously unheard. To suit all customers, the classic cocktails (300+ baht) range from low-ABV cocktails such as a Sherry Cobbler and fruity Bramble to the creamy Milk Punch and spirit-forward Red Hook.
Bringing Thai tastes up front, local ingredients are used in the twist versions. The classic Air Mail (Mount Gay Eclipse Rum, lime, honey, Chandon Brut NV for 360 baht) finds itself adapted into Bangrak, You've Got Mail (Captain Morgan Spiced Rum, Pampero Blanco, Moscato, homemade spiced mango honey, fresh lime and ginger ale for 390 baht). The drink is served with a letter attached to the glass stem.
Flip pages to find more like the Chiang Mai coffee-infused From Soho to Soi 11, Bond Loved Jasmine (jasmine Vermouth with chrysanthemum bitters) and Sorry, Only BTS This Country (coconut-infused gin with white sesame Vermouth, Hazelnut liqueur and fresh lemon juice).
Want nothing from the menu? Customers can order what they want. A couple walked in and requested "anything with cinnamon" and a few seconds later Jun was torching singed cinnamon pieces to craft a custom concoction.
"We love challenges," Jun said.
Peanuts are the only bar snack, but customers can move next door to Score Bar to fill their stomachs before returning to top off the tank.
#FindthePhotoBooth can be reached from a photo booth on the second floor of Score Bar in Soi Sukhumvit 11.