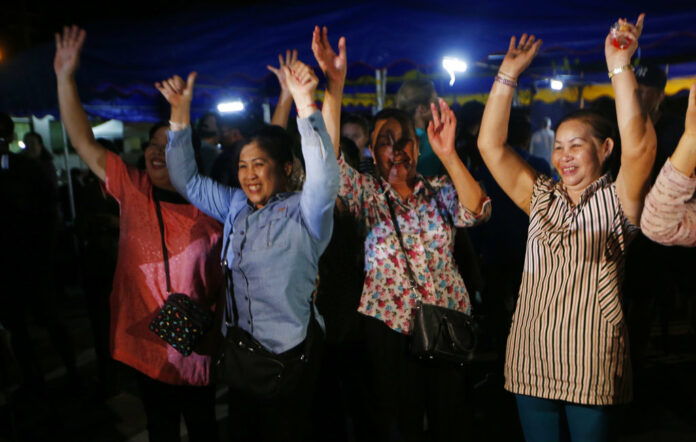 CHIANG RAI — Twelve boys and their football coach had no serious health concerns Wednesday morning after the last group of five was successfully rescued from a flooded northern cave and transferred to hospital last night.
The parents of the first four boys to be rescued were allowed to pay bedside visits to their quarantined children on the condition they wear hazmat suits and keep a distance of two meters.
Parents of the second group of boys, those rescued Monday, will be allowed to make similar visits later today, according to the Health Department's deputy chief.
"The 13 must have taken cared of each other very well [inside the cave]," Thongchai Lertwilairattanapong said. "None of them show a level of stress that we should be concerned about."
The first four boys are healthy and can eat regular food, Thongchai said at Monday's press briefing, adding that those in the second group suffering from lung inflammation were getting better. He said they must be treated at the hospital for at least seven days.
While the second four are also healthy, some have high blood cell counts, which must be closely monitored. They will be able to eat normally this evening.
None in the third group – four boys and their 25-year-old coach – suffered hypothermia, according to Thongchai. Their blood pressure and heart rates are normal. Following protocol, the five received eye examinations, mental health checkups and were vaccinated for rabies and tetanus.
Lab results showed the first two groups were free of disease. However, there is no set date for their discharge from hospital as they continue to undergo treatment.
Asked by a reporter, Thongchai denied knowledge of reports the 13 were sedated with anti-anxiety medication during their evacuation.
"They were conscious when they arrived at the hospital … I don't have any details about when they were being transferred from the cave," he said.
Related stories: